11/16/07 Blak Fridays
This weekend I had a lot of choices to make as in what to do because it was slam packed with all kinds of shows,movies and goings on...One thing I have noticed in my almost 20 years of living here is; its either all or nothing...as is too much to do or nothing at all. This was one of those crazy weekends where I was just out the entire weekend.
It started out with friday night: I decided to go see my old buddy Morpheus at his event at the
Beauty Bar called Blak Fridays: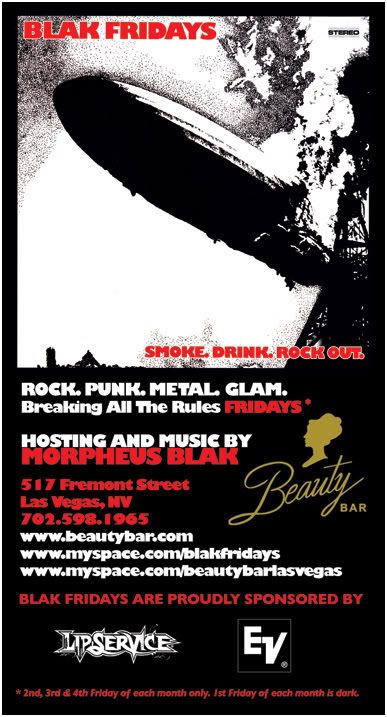 Sometimes its a mix of live bands and him DJ'ing before and after the bands. Then we usually rock out until the wee hours of the morn. After all of that rocking we usually crawl to the Griffen for early hours of more drinking and conversing(if you can hear over the ecclectic music playing on the Juke)
Morpheus is the premire Rock/Metal/Punk/ spinner in Vegas today!
He plays such a diverse array of tunes that you cant help saying at about every song " I love that song", and go out on the small dance floor rock out,bang your head and dance your ass off! We usually rock out with Morph and he is a blast! He has great taste is music and loves it as much as I do!! He also has a passion for all things rock! This is a kick-ass DJ that you will want to be at your next event!!!! Check him out at:
Morpheus Blak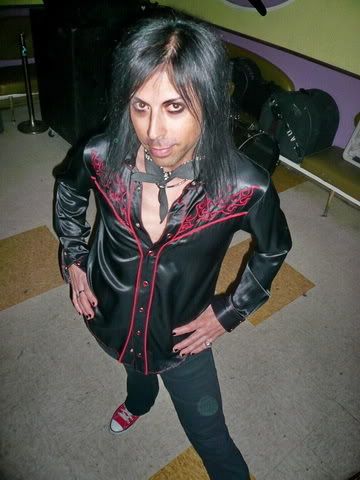 This is the "man" at the Beauty Bar on 11/16/07...

I got there a bit early so we went over to Hogs and Heiffers up the street and took in some of the ambiance of a cross between Coyote Ugly and a biker bar with women behind the bar that dont take any shit and dance for the customers. They are a bit abrassive,but I love it!!!



They also dont have any fruit so dont order a Corona with a lime...it wont happen. Lol! They play quite a bit of classic rock and biker rock,so you will see some hogs parked out front! Good shit!
After a few beers there(we actually had a couple of guys there buy us beers!!!) we headed back to the Beauty Bar and said hi to the sweetest manicurist in the world, Cari. She was painting Morpheus' nails Black,go figure..hehe. We rocked out to some old Maiden,Saxon and Metallica, and my neck was sore. Havn't done that in a minute! After all the rocking out we were shot and headed to the Griffen for our usual drinks and chat. It was 4am before I sobered up and called it a nite. It was a really fun nite hanging with Morph,Alan, and Chris (first time in years since she and I hung out!!) Good times!!!

11/17/07 H.I.M at the Joint


Saturday nite I already had a ticket for H.I.M at the Joint and everyone I knew was at HellYeah at the HOB. I had such a bad experience with scary-ass men at the last show they did,I swore that I would never see that band live again...just bad energy man! Nothing to do with the band,just their fans that are a bit over-testosteroned-out-alpha-males. (NOT ALL, so dont get offened. Always the one ass that ruins the nite for everyone) So I talked to Morpheus and he got a ticket for H.I.M too, so I met he and Jimi there at the Circle Bar (Where everyone meets before the shows at the Hard Rock!!) They looked totally Goth/Rock and I thought they were the coolest looking guys at the HR!!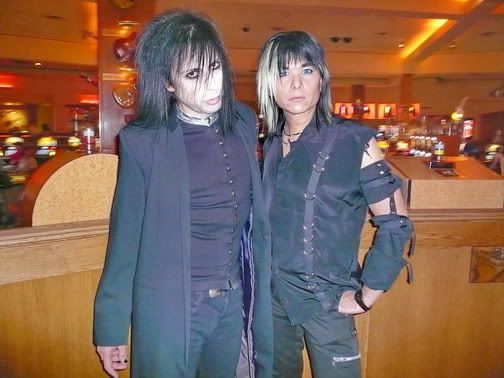 We went in and we watched Ville Vallo and Co. do a stand up job of their Dark Romantic form of goth metal. Neither of the guys had ever heard them and they got their first taste of them and really dug their tunes! I love H.I.M. and have for a few years now and have all their cds. I just bought their new CD Venus Doom and havnt really had a chance to sit down and listen, but I am sure I will like it! They had a killer set and here is their set-list to all you fans of theirs: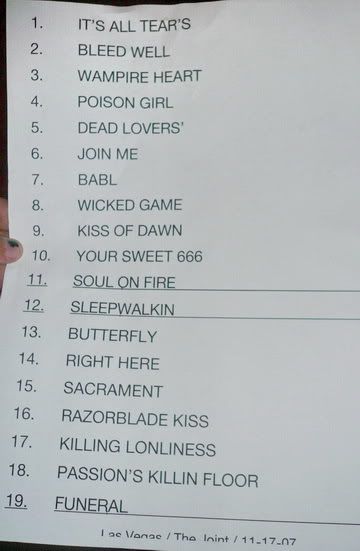 These guys are fantastic live and I just love Ville's stage presence!! You never heard so many girls screaming between songs than at this show! It was deafening!
Here is an older video of H.I.M. of a killer song"Right Here in These Arms"...beautiful!!!

After a killer set of " Love Metal" I went out to meet Alan so we could go see Rocky Horror. I walked out into the HR and happened to hear some kickin' Johnny Cash tunes at the Side Bar! It was a band doing a tribute to the Man in Black and I was told it was a band called Cashed Out!!! these guys were so right on with all the guitar picking and a woman was singing the Rosanne Cash parts and she was wonderful! The guy doing Johnny was so spot on, I couldnt believe it! If we werent going to RH,Iwould have stayed there and jammed out to some of their set.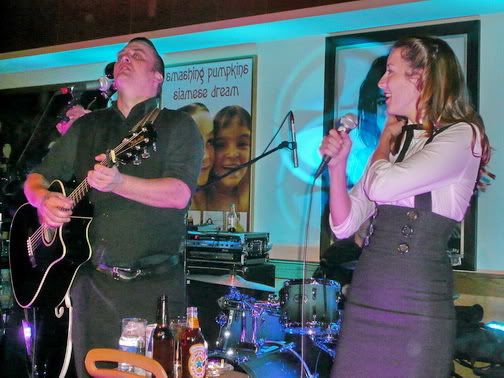 But alas, we had to zip over to the Onyx Theater inside The Rack,a fetish clothes store inside Commercial Center on E. Sahara, as fast as we could without getting a ticket to catch the Rocky Horror Picture Show at 11:30pm!! This wasnt just the movie,it is the theatrical verion with a cast of characters in a small theater. You can find all that is Rocky Horror at this link
Divine Decadance
!! I took my buddy Alan,who loves RH,and he had never been to the actual theatrical version,so he was a virgin. Good thing we arrived late because they humiliate the RH virgins before the show begins...lucky him!!! Lol! I have seen these guys and gals work their magic before and met Corey who played Rocky last time and Riff Raff this time. He is really a character himself. This was his birthday show and it was a blast!!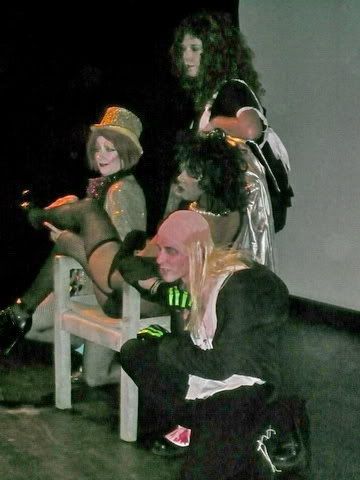 With all the bantering of the crowd and the characters,sometimes its hard to keep up,but its so much fun and you just laugh your ass off continually! It is crazy and I would recommend you guys go see it if you're into the whole scene!! You can even dress up,they encourage it! Its only $7 at the door and you can pay a buck for the goodie bag with the props for the film sequences! Good stuff! So if you need some fun, they do this every other saturday nite. The next show is Dec 1st!! Its at:
The ONYX THEATER located in THE RACK at 953 E Sahara Ave. NW side of Commercial Center.
Even after that at about 2 am we cruised over to Crown and Anchor for some grub. It was my first time there and their fish and chips were pretty good! I really dug that they had Wyder Cider on Tap!!!Yay!! Love that shite! Then it was onto home again at about 4am.