One thing that pisses me off about Vegas is how steep the prices of concerts can be if its a big name. When I saw that Ozzy and Zombie were coming to the Joint at the Hard Rock, I was stoked!! on the otherhand,when I saw the tickets were $150 for general and $500 for VIP balcony(Which sucks!) I was floored and pissed! I said no way am I spending that kind of cash on two bands that I have seen numerous times for like $40 each. I am not cheap by any means and I have the money...its the principal of the thing. Not everyone can afford it. I know the venue is small,only about 1500 or so people. I know they are playing togther. That is cool. It just seemed outta control. So yesterday I was going to stay home with my head cold and watch movies.... Well that didnt happen. My good buddy Jimi called me and told me I was going to the show no matter what!! He also called our bud Morpheus and told him he was going to...dont ask me how he got tix,but he managed to get all three of us in. I was again,Stoked about this show!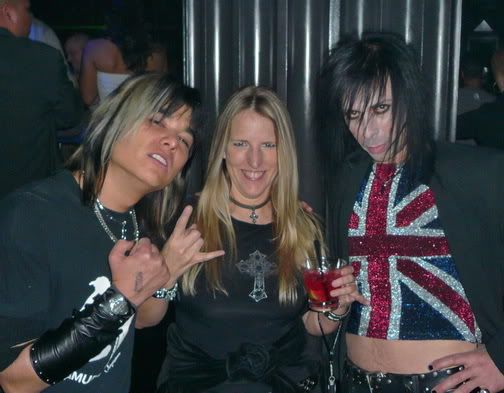 When I get there I meet up with the guys just in time to see Zombie go on. He had basically the same stage set as when they were with Godsmack show here awhile back. He played the same songs as he always does, Dragula,More Human,AmericanWitch,etc....but with Zombie its always good no matter what! The show was high energy and John 5 looked evil as hell and was all over the place. Rob was right up in the crowd at one point and he was killer! It was a regular Zombie show..... Always good with no surprises!
We were crusin around and chatting and drinking until Ozzy went on and were wondering how Ozzy was going to sound. I heard through the grapevine that Ozzy lipsynched during the VH1 Rock Honors and he did. We saw that. Now we would see how the Ozzman would do tonight,so anticipation was high since he hasnt played solo in about 4 years here. I have seen him several times since like 86,so its always good to see Ozzy up on stage still to this day even though he is up there in age! I have been a fan of him for years so I just hoped he would kick our asses!
I managed to sqeeze up front with Bobby and Landon so I could get some shots of the band and maybe some video for my blog. I was right up on the barricade and in front of Zakk,which was killer because I love that dude!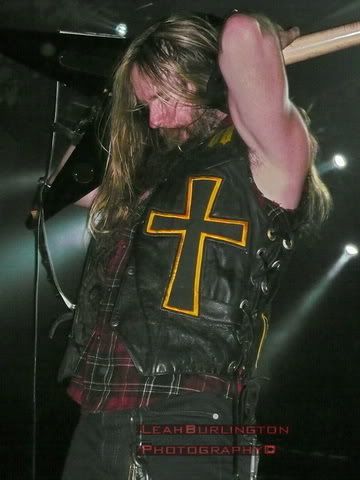 He was going off and just shredding it up like he does!! He as usual always puts on a great show and rocks our asses off. Ozzy looked great and had a headband on. He looked fit and strong!
He even threw some water out into the crowd. He was rocking out pretty good and seemed to be singing pretty well. In my video, I heard him truly singing and it was definatly him. I was told by another little bird,that they cancelled San Diego because he couldnt sing. He lost his voice. I guess that happens a lot to him now a days,so sometimes he is forced to lip sync. I guess its just on with the show. He was still being his normal Ozzness and it was a kick-ass show!! I still wouldnt have paid that kind of money but I am grateful to my friend for taking me because it was a total BLAST!!! ( Thanks Jimi!!!) : )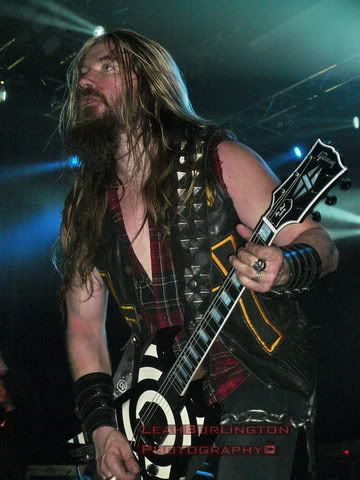 Zakk was so close we could almost touch him!! Even got some great shots with my point and shoot!!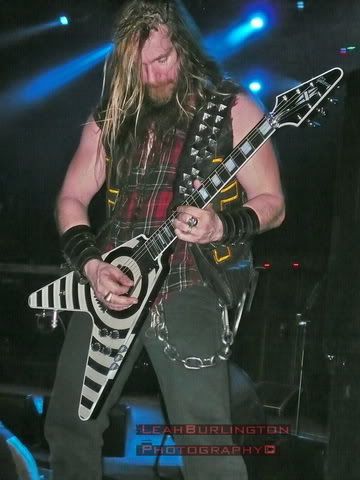 This is the set list for the show in Vegas and I think it was a pretty good selection. Fourteen songs is pretty decent for someone that has been around for that many years and can barely speak. I love the man and hope he does this for many more years!!
Here is s small clip from the show... starting with happy birthday to Blasko..Bark at the Moon, and the moon was full last nite!!! Owwwwwoooooo!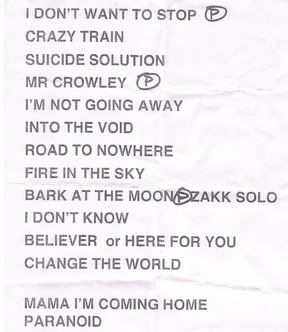 After the show we went over to the Body English club for a bit and that was lame to us as we cant stand dance music. They were butchering Guns and Roses with a mix of dance shit and it was terrible. So we had a few and bailed out. Then we went to the side bar and chatted with some people from LA we know and listened to a Doors Tribute band called Wild Child. They were pretty spot on!! After and couple more drinks and then some sobering up and chatting with some BLS guy, I wandered to the restroom and I bumped into Adam(Ozzy's Keyboardist) and Blasko(his bassist who's bithday it was!) and they both remembered me from the Rock Honors! Me and Adam played Craps with Jerry Cantrell at the Manadalay Bay for picks and photos! Every time I shot a winner I got a pick or photo with Jerrry! That was surreal!! All and all it was a great Saturday night in Vegas, and hung out with some great friends,new and old. Got some great photos and a set list thanks to Chris from 7th Son! (Thanks!!)
If you get a chance,go see this show!! It was a blast from the past!!!!
I would give it \m/\m/\m/\m/ horn's up!!!