We in Vegas get the pleasure of getting to see some pretty obscure bands in some of our small venues or rock clubs and last sat nite we were allowed to see a band I have never heard of before this nite,Juliette Lewis and the Licks. She is a pretty famous actress that was in movies like Natural Born Killers and one of my faves ,Dusk Til Dawn. She has been in the Hollywood scene for over 15 years and has tons of movies to her credit. I read in her Bio at
http://www.julietteandthelicks.com/
, that she was tired and unfulfilled with that scene and wanted to make music instead. She started the band in 2003 and went on to do the Vans Warped Tour and put out a cd called " Your Speaking my Language". The Lick's sound has been called Alt Pop,Punk and Old School Rock, and I think the latter best describes them!! She has a really cool voice and I like her song "Hot Kiss" and she sings beautifully on "I never got to Tell you." Big difference on her deliveries of these songs! I really dig her! She is still beautful too...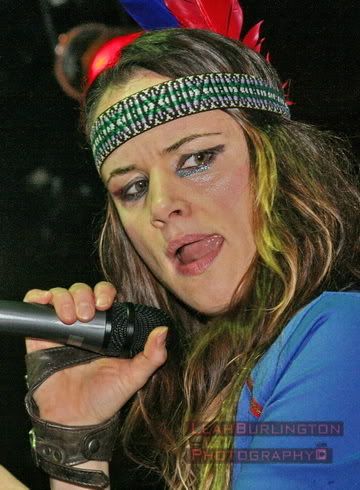 I was there to shoot the show and I only had three songs to acheive that and then I had to split and shoot a party that was a paying gig. From the three songs I heard and saw, this band has some killer energy and Julliette has the adrenaline infused energy of a kid!! She is a kick-ass front woman,jumping and banging her head and ready to shove her hard hitting rock down your throat!!! Her band was extremely tight and looked to having a blast! The whole band was just raw energy,something that a lot of bands lack these days! I was bummed that I had to leave because I am sure there was way more of this band to see! They have a new cd out here: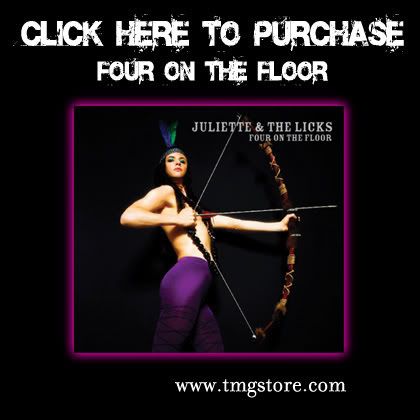 If you ever get a chance to see this band, do so!!! They kick some serious ass!!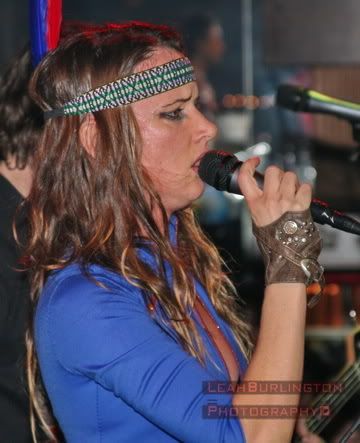 I would give Juliette and the Licks \m/\m/\m/\m/ horns up!!!