It was a good thing I checked Myspace last nite to see what was going on and saw that Powermaker(David) posted a blog about a Prog/Power/Metal band from Brazil who was going to play at The Cheyanne Saloon last nite. They are a female fronted band called Shadowside,that he told me he has been plugging like crazy for weeks. I dont remember seeing the bulletins,but I know David,being the die-hard music freak he is,was posting like crazy. He has a internet radio show he does at KWTF The Edge for Powermaker Radio every Tuesday at 22:00CST.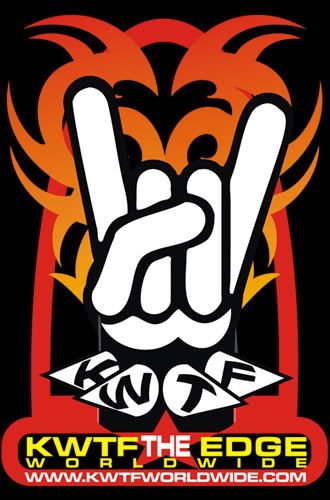 The band played earlier last nite at the So Cal Studio and tonight is playing at the Vox Wine Lounge for an acoustic set.
This band is fronted by an amazing little Brazillian powerhouse chick, named Dani Nolden that when I first saw her I was like " that chick is so metal!!" The when I heard her I was like," This chick can sing as powerful as any metal guy can!!" She was just heavy as hell...no cookie monster or operetic shit eaither...flat out METAL singer!! She really kicks some serious ass!! And she is beatiful with that flowing red hair!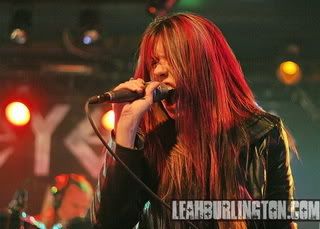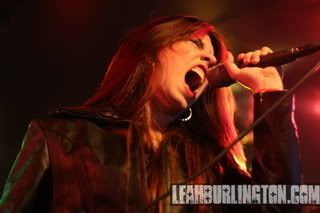 The rest of her band is guitarist Raphael "Micheaut" Mattos,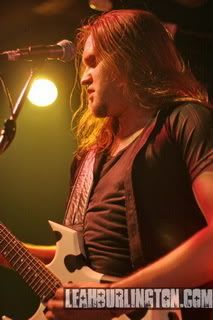 hammering drummer,Fabio Buitvidas, and bass pounder,Fernando Peto. These guys were a rare find in our scene of harcore, emo,trendy, and hair-metal bands!! The other bands that played were local bands that do hard-core metal ,and that was a strage combo. I was there to see Shadowside, the kind of music that I love!! Power-Metal with some Prog attributes with a powerful singer that sings clean! That is what I search for and why I went to Prog/Power in Atlanta this year! This band should be playing at PP #9!!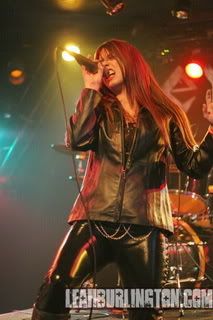 They played a fierce set with songs like Red Storm,Illusions, We Want a Miracle from Theater of Shadows, and songs off the new Cd they are working on ,Memories and In the Night. I especially loved when she asked us if we knew the song Rainbow in the Dark by Dio and we all cheered and threw horns as she blew our minds with her incredible voice!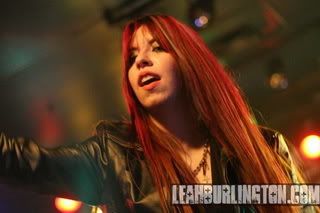 It was a pretty short but tight set with some blazing guitar solos and wonderful singing! I made sure to buy their cd Theater of Shadows that I listened to on the way home and love!!! These guys have a lot going for them and I hope they can bring it on and bring more of this kind of music to the stagnant (in my opinion) Vegas scene. Hope to see them out here again soon!!! Go get their cd on their Mypace at http://www.myspace.com/shadowsideband !! They are on the Chavis record label. Hope they can break this fine band onto the Prog/Power scene!!!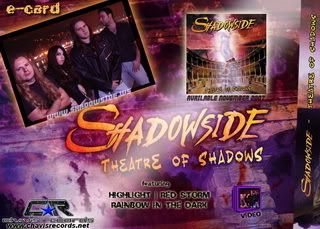 I give Shadowside a big \m/\m/\m/\m/\m/ HORNS WAAAY UP!!!