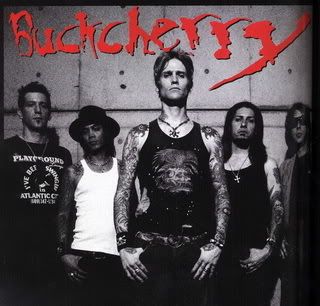 I know I am going to get some flack for this but I dont have a Buckcherry cd,have never seen them live and havn't given them any credit at all. I know they have been around a while,have several cds out and I dont have any excuse except for I dont like songs that talk about Cocaine.
Ok, I sound like I have a closed mind, and yes I have for a while stayed away from this kind of stuff and any radio friendly music out there due to my new Prog/Power/Metal obsession. I just didnt give Buckcherry and chance. I am going to change that!!
When I found out they were doing their 300th show here at the House Of Blues in Vegas, I thought to myself,shit, I should go to this show and check these guys out. I should give them a chance to blow me away. I got the hook-up by my friend Gus at
Glammetal.comfor a photo pass and a ticket,if I would give them a review and photos of the show. I was excited to try something new and get an oppertunity to shoot this band that I heard has a high energy set! there will be an extened version of this review on: Glammetal.com in a week or so.
So I get to the show and it was packed!! I was able to find some friends but this was not a social gathering for me tonight. I had a job to do. I had to get through the crowd and get to the photo pit and get me a spot. I saw a few other photogs there that I knew and got myself set and ready for the onslaught! Then the lights go down and they come out all high energy and Josh Todd is just all over the place! He was hard to keep up with!!
Josh flippin' me off!!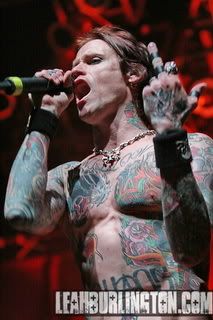 The guitarsist's,Stevie D and Keith Nelson compliment each other even though their styles differ!



The lights were really fast too so it was hard to catch any good photos on the first song which was "So Far". I said so far so good!! They were rockin', thats for sure. Then they played two more songs, "Broken Glass" and "Porno"which that was all that we were allowed to shoot so I think I squeezed off some extra shots and bailed out of the pit into the heated crowd. You wouldnt know it was butt cold outside, when the place was so hot!
I found a new friend of mine and big supporter of my work, Carol and she let me sit with her and her friend John behind the soundboard.It was a relief to be there with room to move and sit down to a cold beer and get to enjoy the show and not be pushed around! I could see everything perfect and was really getting into it when they started to play "Crazy Bitch" the extended version,that had everyone on their feet and dancing,including me!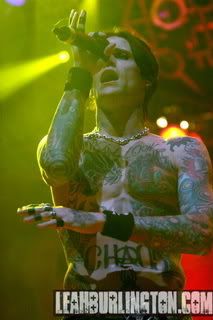 I realised right then that this band was exciting and fun,with music you can dance to. Then they jumped into "Next To You",which is a song I really dig and we were just rocking out and the girls were bumping and grinding. It was really fun and by this time I was feelin a bit buzzed and the show was getting more intense. I was having fun and enjoying a band that I had written off before!!! Go figure!!!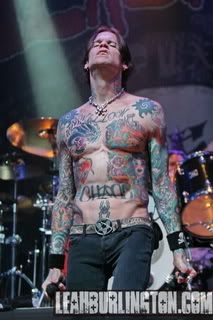 Josh Todd is an underrated singer and I realised that when he was singing some of their slower songs. He is a tattooed monster rocker,with tons of energy and charisma and he gets the crowd going and keeps them mesmerized. He really reminded me of Axl Rose without the long hair, and that it seems like they get some influence from GNR. Stevie D, one of the guitarist's,was like Steve Stevens on crack! He was a true Rock Star!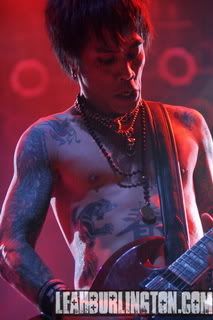 The drummer Xavier Muriel was the only long hair onstage and he let it flow with some fans blowing on him,and that just looked cool! I really noticed that he was an exceptional drummer and looked a little metal for this band. I met him later and he was really down to earth! And yes,Stevie D,you get a good review!!! The bass player, Jimmy Ashhurst was the only guy in the band that I didnt pay much attention to because he was overshadowed by Josh and Stevie D.
They finished up their 15 song set with my un-favorite song"lit up" with Josh talking about his first taste of Coke at 16 and how he dug it and it seemed he was condoning it. I guess that is his perogative. I dont condone it, but the song was really ass kicking live and people were just going nuts for it so I just went with it. It is a great groove/rock song that plays out good live and I was bummed that the show was over...but it was only the second to last when they did an encore with "Crushed" we were happy to have another song to rock out to!! They played 16 songs but they left us wanting more!!! That is positive!
All in all, Buckcherry are a intense live band that anyone that likes balls out rock n roll should see. I am annoyed at myself for not opening my mind up earlier because I could have seen them a bunch of times before. Now I know what I was missing and will go see them whenever they come to Vegas and I will actually buy their cds!! These guys truly RAWK!!! They have the rock spirit that is hard to find today in this trendy, here today gone tomorrow society. You can check them out at: www.myspace.com/buckcherry They are going to be in the studio working on a new cd and I guess its better late then never to become a fan. Cant wait to hear the new stuff they come up with!!!

Here is their set list for the 300th show in Vegas!!!


I give this Buckcherry show \m/\m/\m/\m/\m/ Horns WAY Up!!!!!!!!!