Last saturday nite,three nights before X-Mas, we had a great show at the Rox with some local bands, kil jaden,John Zito, and Sin City Sinners, and 80's Hollywood Vampires, LA GUNS! They called it Seasons Beatings and it was tough to beat!!
Everyone came out to party and rock out and people were in festive spirits. Tamrin and Morpheus had on santa hats and everyone seemed to be in high spirits! I swear there were so many cool people there and a lot of my friends were out which was great to see. It was wonderful to be able to see everyone out and celebrating the holidays in rock-n-roll style!
The first band to go on was my good buds,Kil Jaden. They have a new drummer named TK, or Taylor,who is giving the boys a shot in the ass that they needed. He came out from LA to play with the guys and I think he is a fine adition to the band!
The "new" guy in Kil Jaden!!!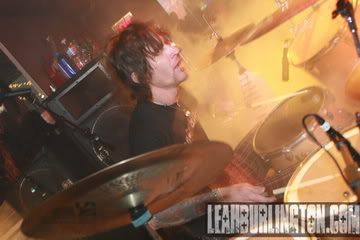 Brian and Ronnie!!
Brian and Corey!!
Kil Jaden are one of my fave local band in Vegas because they make sure to keep everyone informed of their shows and they personally thank everyone for coming to see them on Myspace .They are some of the hardest working guys out there and some of the nicest guys I have ever known. I hope these guys get a record contract and just stay heavy as hell! I love their soneg,"Desire"!!!Check out their myspace@
http://www.myspace.com/kiljadenband
The next band to go on was local fave John Zito,who had the singer of Trouble,Eric singing some old Trouble tunes. They were really smokin' especially John who is an amazing guitarist!! They rocked the place!! I recognized some of the old Trouble songs ,but dont remmeber the names of them. It was good shit!!
Eric from Trouble!!
John freakin Zito!!!
John is also one of the nicest guys around and is always happy to see you and appreciative when you come out to see him! Hope to see more from John and Eric! Check out John's Myspace@
http://www.myspace.com/johnzitoband
Then the Sin City Sinners came out and they are Brent Muscat from Faster Pussycat,D. from Underground Rebels,Louie Merlino from Beggars and Thieves,Troy Powell from Black Diamond, and another guy that I didnt know. They do a lot of covers like "Bathroom Wall" and "House Of Pain",from FP and all kinds of other kick ass tunes from back in the day. These guys rocked us out and ended with "Sin City" which just ruled! Check out their myspace@
http://www.myspace.com/scsinners
D and Brent!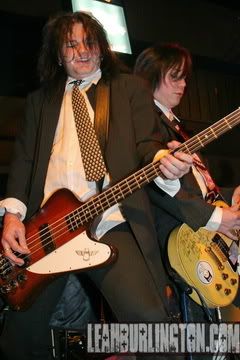 Brent Muscat!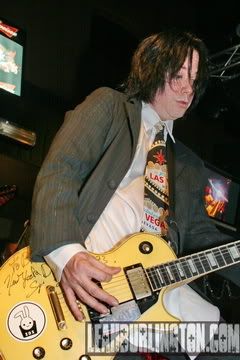 They are having a show soon at the Dive bar,Jan 12th at an AVN after party. There will be special guests Jizzy Pearl,Phil Lewis,Ron Keel, and Louis Merlino again playing this show. Being as most of these rockers live here in Vegas now, I think we will be seeing a lot of these guys jamming around Vegas in the future. It seems like a lot of the older rockers from the 80's have been getting away from LA and moving here and Paul Shortino is one of them. I met him at the ROX this nite and it was really cool chatting with he and his wife Carmen and introducing him to my good friend Diane,who loves him!
Paul and me... find him @
http://www.myspace.com/paulshortino
After hanging out with the Jaden boys and LA guns backstage(such as it is) LA Guns were next to go on. I was chatting with Stephen Riley who used to be in WASP back in the day about how much I used to love WASP and how this new crazy-ass punk band from Vegas called the Deady 7 have been stealing their show by using blood and feathers to toss out at the audience. It was a funny conversation and just then Jenny from D7 was back there and I introduced her to the old drummer for WASP, the band I told her about!! It was funny!! She was stoked to meet him and now I have to get her an old DVD of them to show her what crazy-ass shite WASP used to do onstage probably before she was even born!!!
Stephen Riley and Jenny from D7!!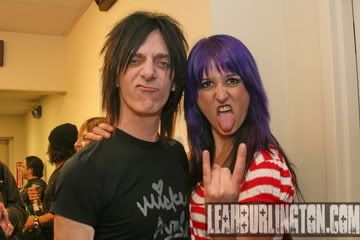 Phil and Brian!!! Nice photo-op!!!
The it was LA guns turn to rawk our asses off and they came out with "Slap in the Face" and a song I didnt know and then a song I did know "Sex Action"!! They were kicking serious ass and Phil was in true form as he was pretty high energy and looked like he was having fun! His guitarist Scotty was a true guitar hero!!
Phil Lewis!!! Check out his two myspace
pages@http://www.myspace.com/lagunsofficial
And
http://www.myspace.com/phillewismusic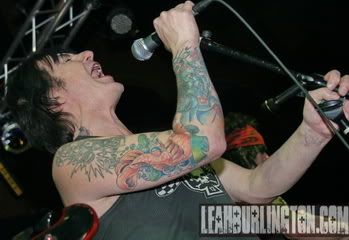 LA GUNS!!!
Unfortunatley I had to leave due to an early wake up to drive to California for Chrismas with the family so after about 4 songs I had to bail out. They had a bunch more hits to play and I was bummed that I was going to miss all my old faves. Here is the set list.. They played a pretty good set!!!!
LA Guns, the Tracii Guns version, will be coming to Vegas in a month or so to play here and I cant wait to hear what they sound like and who is singing for him. I dont think there should be two versions of the same band, but that is my opinion.
This was a totally fun night and it was great to see everyone out having fun before X-mas!! Glad you all came out to party and cannot wait for New Years Eve at the Cheyanne Saloon with all my great friends:
See you all then!!!!!!!!
I give this show \m/\m/\m/\m/ horns up!!!!