12/31/07
NEW YEARS ROCKING PARTY WITH KIL JADEN,ROCKSLIDE,SIAMESE GRAFFITTI,JOHN ZITO & GROOM LAKE!!
We had a fantastic line up for New Years at Cheyanne Saloon!!! I knew most of my friends would be there and most of them were that could make it out!! The guys in Kil Jaden helped with the decorating with all the party favors and hats and the place was decorated so great! It was a small party with maybe 150 people at one time but thats alright with us rockers because we are a tight knit family anyway! It was only $10 bucks to get in and that was just fine with us because this was our kind of party with friends and rockers that dont want to spend over $100 to get into a club on New Years,which is ludacris to me.
My friend Gus came out from Buffalo New Yrok for the Vegas festivities and he had a great time!
Gus and I...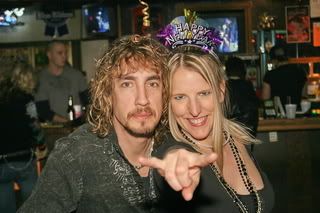 Gus and Carol Lyn!!
Groom lake came on first and I got there a little late so I missed them, sorry guys. Met them after and they are really nice guys! I will see them next time!
Then Siamese Grafitti went on with Colin, Gabe and Steve out front rockin' us out and getting us revved up for the night that was in front of us! It was looking to be a long one with 5 bands and lots of partying to be had!
Colin of Siamese Graffitti!!!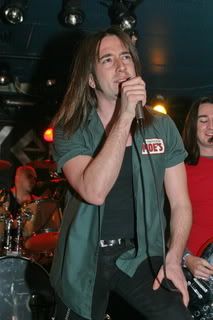 Then we got our own celeb from the Rawk Scene John Zito to play for us with his kick ass rock-n-roll!! He is an amazing guitarist and I love to watch him play!!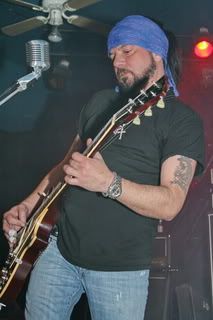 He was having such a good time later in the nite rocking out to some song they were playing over the PA and it was cute!!
Our own John Zito,Taylor and Brian of Kil Jaden!!!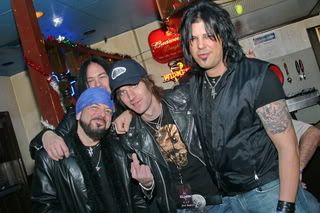 After Zito we had our own belly dancer named Gothik Doll that gave us a show with a sword to some disturbed!! OoooaHHHaaaaaa!
Miss Gothik Doll!!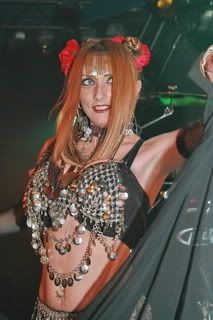 Then battle of the bands winners Kil Jaden got up onstage to RAWK us into the New Year!!! They are always such a balls out rocking band onstage and I never tire of seeing them play and like I said before I love these guys for their music,hard work, and kindness!!
These guys RULE!!
Kil Jaden!!!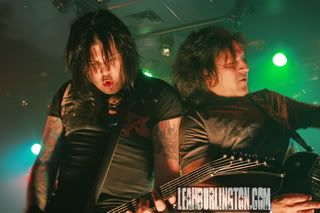 Then we counted down the new year while they were onstage and they had confetti shooting out into the crowd,somthing that I had in my clothes itching me all nite!! Lol!
Three,two,one....HAPPY NEW YEAR!!!!!!!!!!!!!! 2008!!
With our host Steve"phychotic1" from Vegas Rocks!!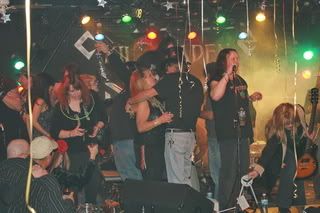 They gave away a killer guitar to a lucky winner from the drawing at the door. It was just so much fun and I was really buzzed by this time. Somthing funny that happened was that John Wayne Bobbit of cock-chopped off fame and porn star(Eeeeewwww!) came in with some guys and was really drunk. I got him to pose for some photos and it was a hoot!!
Carol Lyn throwing horns to Bobbit!! Lol!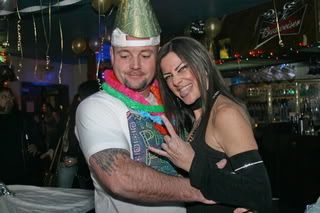 Gus, Tamrin, and Rick hangin out!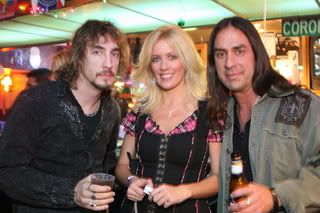 Brent and Carol having fun and toastin' the New Year!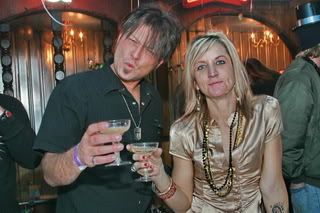 After 12 we got to hear and see my fave chick singer in Vegas Carol Lyn,formerly of Dangerous Curve,playing with her new band RockSlide!! They are a cover band, but dont let that deter you...these guys rawk and Carol is always fun to watch because she is a sexy bitch and can sing like a banshee! After a bit of rocking Mary got onstage and sang with Carol and it was a treat because they were just belting it out up there!!! WOW! Two seriously talented chick singers on one stage!! Awesome!!
Carol and Mary!!
So after all the rocking out to RockSlide we were just hanging about talking till we sobered up and it was about 3:30 when I had to bail out. It was a GREAT New Years and since I didnt get to party last year at this time because of my surgery at Mikes house,this was a great way to make up for it!!! Thank you to all the rockers that came out and made it a killer nite!! Thanks to all the bands for bringing in 08 in such a fantastic way!! VEGAS does truly RAWK!!!!!!!!!!
Love you guys!!!
Remember this: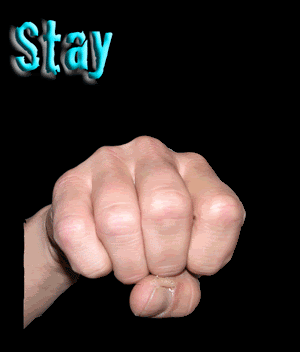 This nite was 10 horns WAAAAY up!!!