1/04- Lukas Rossi at the Canyon Club:
I thought I would go check out the Lukas Rossi show at the
Canyon Club
friday nite to see what he was about now since Supernova is kaput. I walked into a small crowd of maybe 100 people coming from all over the place and mostly from Canada to see Lukas perform. Most were fan-club members that were mostly in their late 30's on up range. I was surprised to see that. These were hard-core fans if they came from Toronto to see this guy.
The first thing I found out was that he was going to do a acoustic set and there was to be no flash photography and the lights were seriously low. So I did the best I could and it was a shot in the dark(excuse the pun) but I got some kewl shots...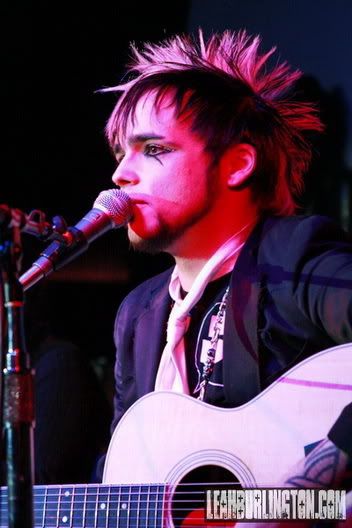 He played a pretty long set and did mostly originals and a few covers like "Hurt" and "Comfortably Numb" ,which he did a spectacular job on. I loved his version of Jeff Buckley's song, "Halleluia". Lukas has a beautiful voice and he pulled it off perfectly.
When I met him after the show I was like "Dude,ya need to plug it in!!" He laughed and said in two months he has a new band called
Stars Down
thats going on tour. That should be interesting. He was a really sweet person and was very gracious with all his fans and it was a pleasure meeting him! You can find his web-site here:
http://www.lukasrossionline.com/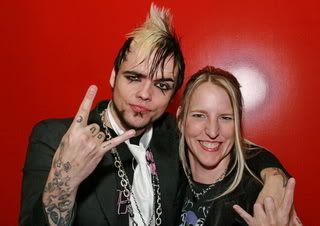 After the show there was a new thing going on late nights at the
Canyon Club
called
Pandemic
Fridays
presented by
M.A.D.A.M.
It is a Zombie party with live bands and drink specials with a $7 cover.Bands featured that nite were
SS Hookers,Betting on Tomorrow and Horror Buisness
. I stayed for a bit and it was cool,but I had to head out to see Morpheus' new nite at the
Redroom.
Zombies from hell!!!
1/04/08 (LATENIGHT)THE REDROOM: HISTORY OF ROCK-N-ROLL!!! w/DJ MORPHEUS AND DJ ALLEN!!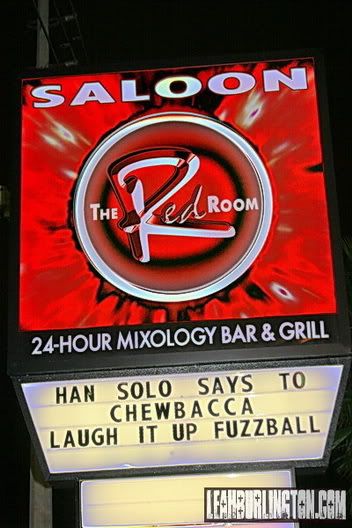 Morpheus told me about his new gig on first fridays at the
REDROOM
on Sahara and ValleyView(before V.V. going west by Arbys) They have three Dj's playing rock from the 50's to today and it was a packed house!!! Lots of trendy scensters were there and a few people I knew were hanging about the smoke filled room chatting and getting down on the dance floor. I couldnt believe how many people were there but it was a fun time!
Morpheus!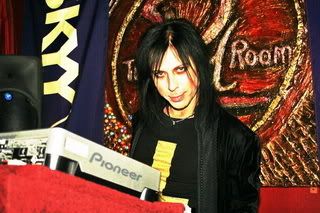 Kewl people hanging out!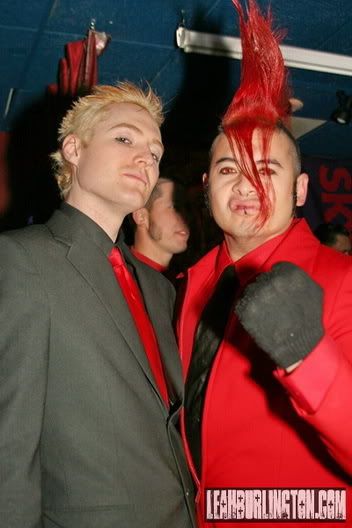 I had fun and will definatley go back next month to check out the scene again!!
1/05/08 LA GUNS feat. TRACII GUNS AT THE CANYON CLUB!!!
On to saturday nite!! I thought it might be kewl to go see the other

LA Guns

play since I saw

Phil Lewis' LA Guns

last month. I wasnt sure what to expect because I think two bands with the same name is confusing and a bit stupid. I enjoyed the last

LA Guns

even though I had to leave early, but I remember them not being that energetic or having much of a vibe.....well, guys this other

LA Guns

is the "REAL" deal!!! This singer

Paul Black

, really blew me away!! I heard he was the original singer for the band years ago and Phil replaced him. Paul is one of the most kick-ass frontmen I have ever seen!! He had the crowd riled up(and it was a good sized crowd at that) and he was all over the place!!

Paul Black!!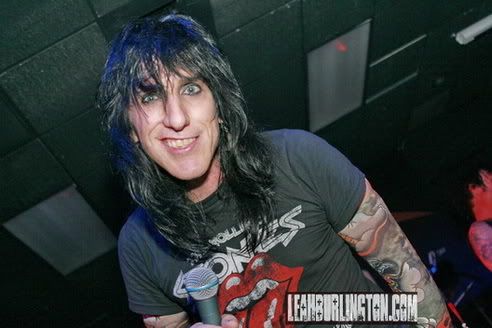 At one point during "Ballad of Jayne"he got a bunch of the audience on the stage to get on the stage and sit down and sing with him!!! That gave me goosebumps and I gotta tell you audience participation is huge!! I LOVED that!!
Audience participation!!!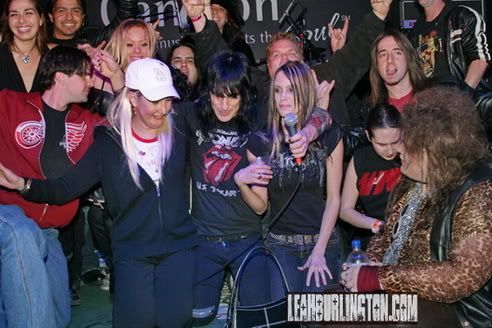 I even got onstage to shoot some photos and they are all up on
http://www.mojorepublik.com/
They played the usual hits but they also played a bunch of stuff I never heard before that were rocking songs!! Wish I would have got the set-list!! They RAWKED!!


Paul and Tracii givin' it everything they had!!!
Tracii Guns
is
an exceptional player and has some killer licks!! He is underrated and I think is one smoking guitarist!!! He shredded!!

Tracii freakin' Guns!!!!
This is a show I am so glad I went to because they just rocked the house down and they exhausted me to no end!! This was a killer show,guys!!! If you didnt see them go,because like I said this is the REAL deal!!!! They smoked!!!!
You can find the band at:


http://www.myspace.com/paulmarsblack
-
Paul Black

http://www.myspace.com/losangelesguns
-
LA Guns

http://www.myspace.com/traciigunsmusic
-
Tracii Guns

I would give this show \m/\m/\m/\m/\m/ horns WAAAY up!!!!!!!!!!!

1/05/08-LATE NITE:GOLDEN NUGGET w/FRANKIE MORENO: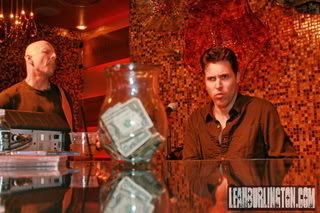 My good friend Carol Lyn from Dangerous curve/Rockslide, asked me to come over the the
RUSH LOUNGE at the

Golden Nugget

downtown after the LA Guns show to see her boyfriend

Russ' band, The

FRANKIE MORENO

band play.
So, I wandered across the street to the Nugget and found the lounge and was reluctant to go in because there was a piano there and it was a nice lounge...not what I am used to going to. I found Carol Lyn and she introduced me to the Singer/pianist/entertainer, Frankie Moreno.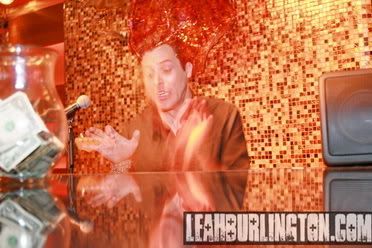 He is a real handsome guy and I thought,great, this is going to really suck for me. Then she introduced me to her man Russ Letizia again. A guy who is a very Talented Guitarist who is in this band. So is her drummmer Tony Letizia, from Rockslide.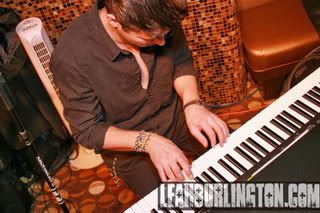 So this guy and the band goes on and its really jazzy sounding at first and then after a couple of songs Frankie starts doing this comedy bit with songs that are dirty and funny as hell. I wasnt expecting this to come outta this guys mouth!!! Lol! He is a hilareous comedian/musician that when you give it some time,it gets crazy in that lounge. He walks around,talking to the audience,being nasty to women and even one point came over to me and was singing to me and I was embarrased as hell! Carol Lyn found this funny!...I think I was red in the face after he was done with me...crazy!
Frankie givin' me the bird! Lol!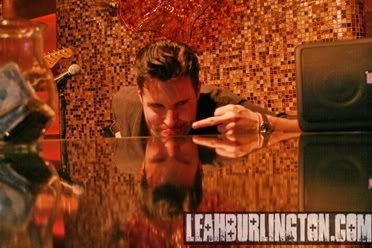 So if you ever find yourself downtown with nothing to do late at nite,go see Frankie Moreno and make sure to tip him well for his work! He kicks ass!!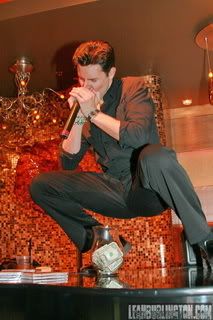 Frankie jammin the harmonica!!
I wont give these guys horns,but will say they are a blast!! They are great to have a few drinks with and laugh your asses off. This band is seriously talented!