I have been to a few red carpet events in Vegas like the Oceans 13 one with Brad Pitt and George Clooney at the Palms(where I actually got to meet Brad and get him to autograph a photo of him!) but I was a fan/looky loo the last few times. This time I got a pass for the photo-pit at the
STARLIGHT TATOO
grand opening party, and got to be an actual papparazzi, like in Hollywood!! I have to tell you...it was exciting as it was nerve wracking! All the photographers are jumping in your way and video guys are right in front of the celebs. You really gotta be fast or you can miss a shot! I am not complaining...it was a blast!! I had so much fun and got to chat with a few clebs and its always nice to get a hug from my ol buddy Criss Angel. Speaking of Criss, he was sporting a new really furry beard and a new girlfriend who is Miss Nevada,who Criss proclaimed is going to win miss USA or was it Universe? He said he did in fact get premonitions. Well I have seen women come and go since his split with his wifey,like Cameron Diaz,who lasted like a minute, so I see this one lasting at least a few months.....



Criss Angel

and

Mario Barth

,the owner

Starlight Tattoo

.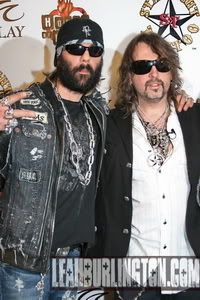 Quite a few rock stars and porn stars were walking the red carpet and even a few movie and TV stars were there...
Like
Ice T
!!! He is too fuckin cool!!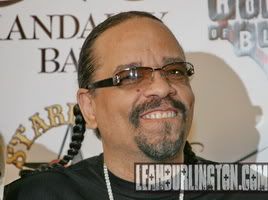 This is
Tattood Millionaries
who found me on myspace and asked me to come out and play!! Crazy guys! They played at the party...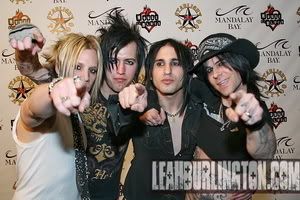 Then we had the beautiful
Tera Patrick
pose for us with her new tattoo she had just recieved from some famous asian tat artist.... she said he was very gentle,when I asked her if it hurt.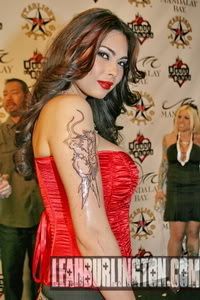 She posed with her tatted out man of Biohazard fame,
Evan Seinfeld
and they looked really hot together...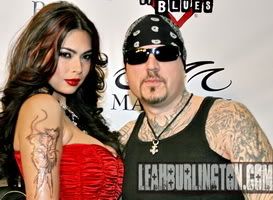 We had the stunning
Vivica Fox
pose for us and I asked her if she was going to get a tat and she replied, I already have 11...we laughed and said none we could see...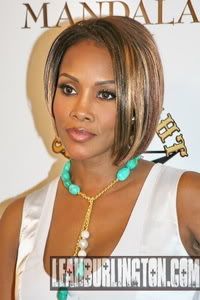 Evan's new band called the
Spyders
cruised out to pose for us...they played the party too...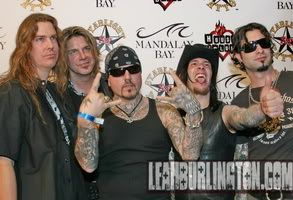 Dave Navarro
came out with
DJ Skribble
to say hey to us...Dave is so hot!!!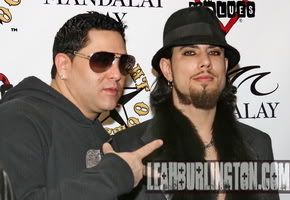 Then we had the gorgeuos but too skinny
Shauna Sands
come out and strut her stuff...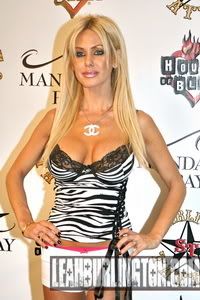 The band of violinists and beautiful triplets,
Alizma
came out and looked amazing....even though they are identical,they all have different looks...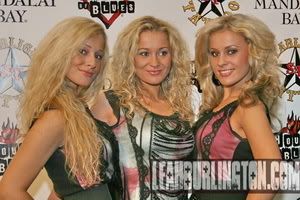 Ice, Ice Baby,
Vanilla Ice
came out and sported some tats from Starlight...he said he was still rocking!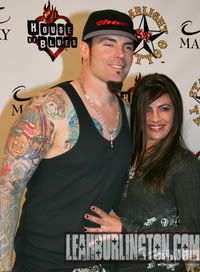 The
Barth Family
with their adorable son.....he was so cute!!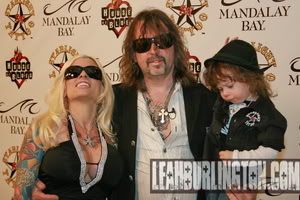 It was incredible to be there to see the stars come out!! The tattoo shop looks killer and I am sure it will be successful. Give it time, I predict a new reality show done from there like Inked and LA Ink...
Some words about
Mario Barth
for those that dont know him, taken with courtesy of his website at:
http://www.starlighttattoo.com/
Their myspace page is here:
http://www.myspace.com/starlighttattoo
WORLD RENOWNED
and celebrity tattoo artist
Mario Barth
is the owner and chief tattoo artist at
Starlight Tattoo
, the premier international tattoo organization with four high-end tattoo studios and the online tattoo supply company called,
The Tattoo Super Store
. Starlight Tattoo sells merchandise in 28 countries on six continents. Amazingly, in the six years since its inception in the US, Starlight Tattoo has generated one of the fastest growing clientele with more than 15,000 customers; making it one of the three most successful tattoo studios in the world. In fact, The National Tattoo Association named Starlight Tattoo "one of the best tattoo studio worldwide."
IN ADDITION to his four New Jersey studios - the only OSHA approved tattoo studios in the nation - Barth is presently working on the construction of two more US studios, four European studios and one in Asia. Barth also invents cutting-edge products for the industry. He is the creator and manufacturer of the first-ever sterile single dose inks (
Singlez™
) which contain his world renowned
Intenze Ink Tattoo Colours
. Setting new standards for safety and health in the industry,
Intenze Colours
are the hottest inks in the business.
KNOWN IN the tattoo industry as the foremost innovator and trendsetter, Barth is the winner of over 200 international awards and has an extraordinary celebrity clientele, including Lenny Kravitz, Jason Kidd, members of the Wu-Tang Clan, Nikki Sixx of Motley Crue, members of My Chemical Romance, members of Ill Nino, radio host Wendy Williams, comedian Rich Voss and NFL Giants' players Jermaine Taylor, Kendrick Allen and David Diehl.
BARTH, NAMED one of the most influential artists in the history of tattooing, hosts the annual Biggest Tattoo Show on Earth, a tattoo and piercing expo which draws crowds in excess of 25,000 - the largest collection of tattoo artists in the world. Due to its extreme popularity, Paisano publications have dedicated an entire annual magazine (in three languages) based solely on the expo.
BARTH BEGAN his career over 20 years ago as a teenager in Austria. After training for several years, the Austrian native opened his first tattoo studio in 1989. Barth opened the first of its kind upscale tattoo studios in Detroit and Miami Beach, before settling down in New Jersey. In 1999 he opened Starlight Tattoos in Fair Lawn, NJ. That same year he opened a store in Paterson, NJ, followed by a store in Belleville, NJ in 2001 and in Rochelle Park, NJ in 2005. And in 2005, Barth created and served as editor-in-chief of Starlight Tattoo's first trade magazine.