I dont usually go to hardcore shows at Jillians because its just not my cup of tea and its usually all ages. That is well and good that they have them because the kids that are into metal need somewhere to go to get that anger and frustration out to some brutal metal. Its a good way to vent and I was really like that too, when I was a kid..now I just enjoy my music because I am not all angry anymore(thank GAWD!) So when a friend of mine that I met at an Arch Enemy show asked me to come on down for a visit and that I should bring my camera, I said what the hell. Only going to miss Slaughter,where everyone in Vegas that I knew was supposed to be at. I am into learning and doing differnt things as of late,so this was something new to try out.
So I get there and get my all access pass and hang with my friend Recon, and have a couple of beers. The only thing I hate about Jillians is it takes forever to get a beer and even longer to get some munchies. So we chat and I hear Seventh Son going on with Chris barely being heard downstairs. The sound was sad. This band from Vegas is killer and should get some decent sound. Then after that a new and really young band called Black Tide went on with some melodic form of metal that wasnt really like the next two bands that were to take the stage. But they were killer for a bunch of teenagers! Good to see them bringin on the metal!! \m/\m/
The place was thronged with sweaty kids that were ready for some moshing and venting when Chimaria came out there was a huge surge to the stage. This is a killer hardcore band with some serious shredding and blast beats! A talented band but not my cup o' tea...still good for what they do!!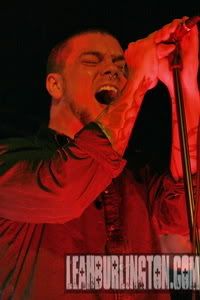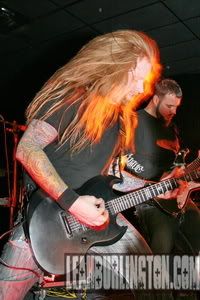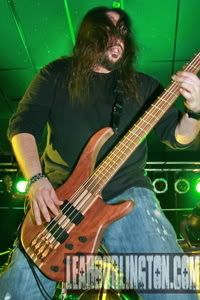 After a serious dose of ass kicking thanks to Chimaria,it was time to see the headliner called All That Remains.. I didnt know what to expect,but these were some talented musicians with a singer of small stature named Phil, that doesnt let that get in his way and he looks impressive up on the stage! The melodic guitar parts were killer and also the melodic singing during chorus'. I think they were a great band but ya know how I cant stand screamer/growlers. I dealt with it though and Recon took me behind the stage to watch the drummer Justin blasting out the beats...he was fucking impressive and was sweating all over the place. He was amazing!!! That was a cool perspective, I gotta tell ya behind the drum-kit. Never have done that before and was grateful to be there,instead of out front...it was brutal as all hell out there. Some kid got thrown over the barricade and I took a deep breath, waiting to see if he would come out,and he did. That was close!
PHIL!!!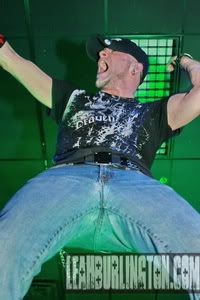 Guitarst from hell, Ally!!!!!!!!!!!!!!!!!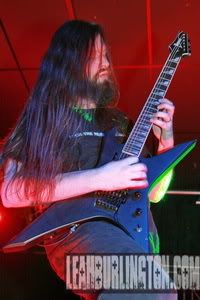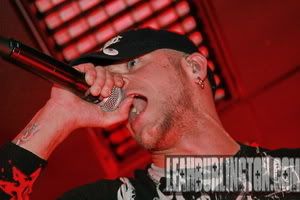 Here is their set-list!!!

This was a sick-ass crazy show that the hardcore kids loved!!! I had a pretty good time and got some good shots so it was a good nite!!!
I give this show \m/\m/\m/ horns up!!!
There are tons more shots from this show and the people that attended it here...click on the lick and go to galleries: