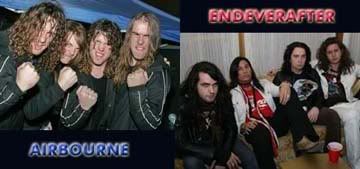 I was excited for a few weeks for the performace I was about to see on weds the 27th at the
Beauty Bar
. There was to be real ROCK SHOW in Vegas. There are two bands on the scene right now that are rippin' up the charts and breaking hearts where-ever they go, I am sure! One is Airbourne from Australia that have a strange way of taking you back to the AC/DC days of old and kicking your ass with killer tunes. Their new CD called
"Runnin Wild",
is doing huge and shows that the kids are ready to rawk!
I am so glad to see these bands because they are bringin the ROCK back. Not the boring cheese they usually play on the radio..."real" freakin ROCK...fist pumpin', head-bangin,beer drinkin',party rock. The shit we have been missin for years!

Airbourne

head bangin'!!!!!!!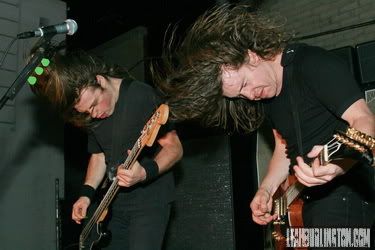 Siner Joel screechin' like old school AC/DC!!!!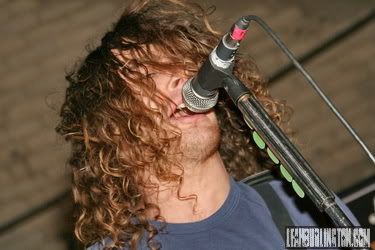 Airbourne: For those about to ROCK!!!!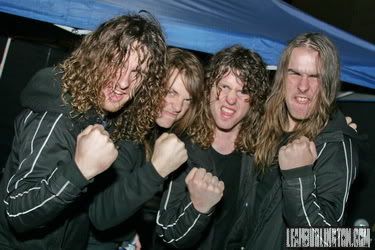 Then there is this beautiful,talented,super-charged, and ready to kick your ass band called
Endeverafter
, whom also have a new cd out called
"Kiss or Kill".
I loved these guys before I even heard them because
a.)
They are gorgeous and
b.)
They are the sweetest boys around!!! Now that I have heard them and seen them, I am blown away by them.
Me and the Endeverafter boys!!!!!!!!!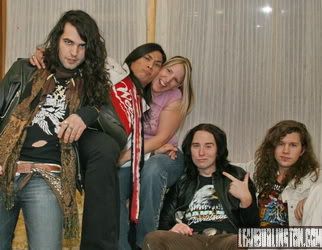 They are visually stimulating (ladies,you know what I mean!!) and have so much energy and their songs hold up onstage!!
Michael Grant
,their frontman/singer/guitarist is a new guitar hero and so is
Kristan Mallory
all sexy in white.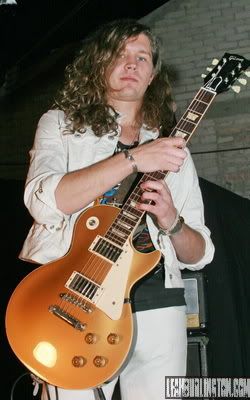 Rock Star: Michael Grant!!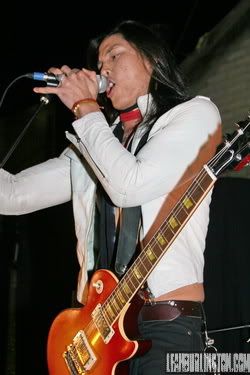 Kristan Mallory...too cute!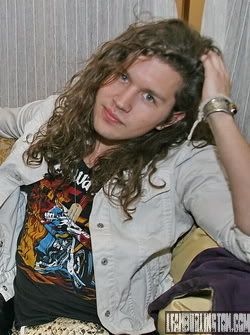 I think their bass player,
Tommi Andrews
is the most gorgeous man I have ever seen!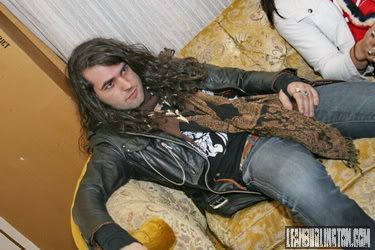 After they went off stage I had tears in my eyes, because they were so AMAZING!! Yes, their music kicks ass!! They are the new band for the 21st century! I think they have rock-star written all over them and I predict they will be HUGE!
Tommi Andrews!!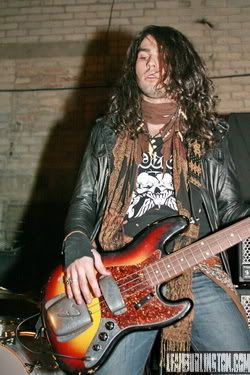 The first band that I didnt even know that was playing,
Stone Rider
, are a bunch of sweet Atlana Georgia boys that play some classic/southern/old school rock.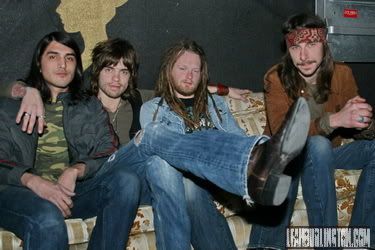 They were kick ass onstage,but I think the pairing with the other bands was weird,being as they were all laid back and cool. The other bands are so freakin high energy,it just didnt seem right. They were sweet and great though so I bought their CD too called
"Three Legs of Trouble".
Listened to it today and I really like it!!! They have a Zep/Hendrix/Skynard feel to them.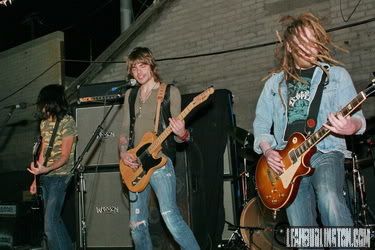 The highlight of the nite (After Endeverafter of couse!!) was the prodigy's called
Airbourne
!!!! They come out like a hurricane and smash you in the face with a wall of sound!!! They had 4 freakin' Marshall Stacks and it was so loud,my ears HURT!! I was right up front and after two songs I stuffed napkins in my ears!!! It was an onslaught of
ROCK/METAL
!!!! They played all the faves from the new cd like ,"Too Much Too Young Too Fast,Runnin Wild,BlackJack and Fat City!!! I love their songs that are singable and memorable!! All I can tell ya was I was just so in AWE of these 4 kids from Down Under,that have that AC/DC sound. I wonder what Angus thinks of them: is he flattered,or is he pissed that he cant do it like that anymore...we all get older. I would still see em if they came through and would LOVE it! (So come on AC/DC..its TIME!!!)
This freakin' show was one NOT to miss and I know a lot of people that did miss it..... I would not have missed it for the WORLD!!! IT WAS INSANE!!!! Thanks to all the bands for being so patient with all my picture taking and
Endeverafter
...I LOVE you guys! Enjoy the photo's!!!
I would give this kiiler ROCK show....\m/\m/\m/\m/\m/ horns WAY the hell up!!!!!!!
Airbourne Myspace:
http://www.myspace.com/airbourne
Endeverafter Myspace:
http://http//www.myspace.com/endeverafter
Stone Rider Myspace:
http://www.myspace.com/stoneriderband
And more shots from the show are at: click on the link!!!