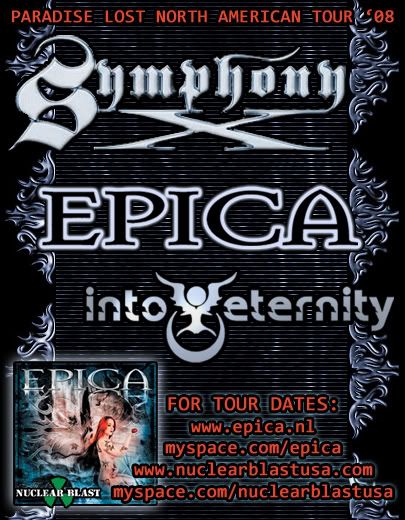 You who know me know I love Prog/Power Metal but I am only Scratching the surface of music that is in this genre. Symphony X is one of my fave bands now from this art form,with the cd that came out in 07, "Paradise Lost", they are being brought out to the masses by leaps and bounds! My friend "Princess Divine sums up this kind of music with these simple words:
"I have a serious passion for heavy metal, especially 'Power Progressive Metal' Music that incorporates many elements: Technical genius, magnificently slick timechanges, thunderously heavy and heart melting riffs, beautifully soaring atmospherics,ultra dynamic vocal style, floods of melody and inspired lyrics.....these elements must work in complete harmony to really capture my heart and soul.I'm also drawn to the most charismatic & flamboyant musicians who are able to project this in their live performances……true showmen."
(from her myspace page)
I really wanted to see this show but I couldnt get anyone to go to L.A. to see them with me,so I talked to my friend Christian in Oakland and he invited me up to the Bay Area to see Epica and Symphony X at this venue called Slims. So I flew up to meet him and we went to San Fransico with some of his buddies from his band Element from Brazil,Al,Rafael, and Debra, and from his other band Futures End,which includes the amazing bassist Steve DiGiorgio.( He has bands like Iced Earth and Testament under his belt and the new Bas cd, Angel Down that he played on.)
Steve,Me,Michael, and Christian after pizza!!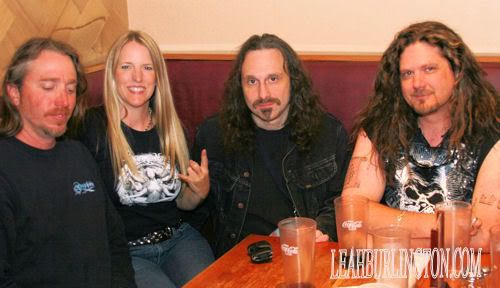 Steve knows Michael Lepond, SX's Bassist, so we waited in the freezing cold for a bit for Michael so we could invite him for pizza. When he showed up he came with and a bunch of us went over to the pizza joint and chatted about SX and Steve and Michael caught up on musician stuff. Michael is a down to earth laid back kind of guy that thanks people all the time with grace and loves his fans. Squeak the photo-mistress showed up and told us that they messed up on the photo-passes so she got screwed out of one. I asked Michael if he could hook us rock-photogs with some passes and after dinner he went right to his tour manager,Brian and took care of us. We were stoked to say the least!!
So we walk into the venue that may hold 700 people and it was sold out and packed like sardines. We were able to sqeeeeze our way up to the side of the stage and to our delight, there was a "tiny" photo-pit in front of the barricade. We got in and got ready for the metal onslaught!! Into Eternity just got done( I dont think I missed much) and there was little room on the stage for Epica to stand on. I was only a foot away from the stage that was about chest level. It was incredible!! I was going to see one of my fave bands so close they could use my head for a beer stand!Hahahaha!
So when Epica went on one guy at a time with the atmospheric keyboards going full throttle, we realised that Simone wasnt there and some chick with immensly long blonde hair was starting to sing. Some kewl girls in the front informed us about the Simone/Amanda swap and we were like, well ok, cool.
Amanda Somerville!!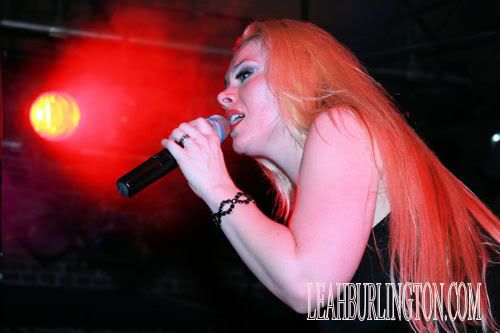 She was a big girl with a HUGE vocal range and a beautiful voice. This band was tight!! They had another guy that was a growler and as Christian so delightfully put it,he sounded like the Tasmanian Devil!!
The Growler
Lol! They were amazing and on the vein of Nightwish and After Forever, the kinds of bands that I am now getting into in a big way.
EPICA!!!!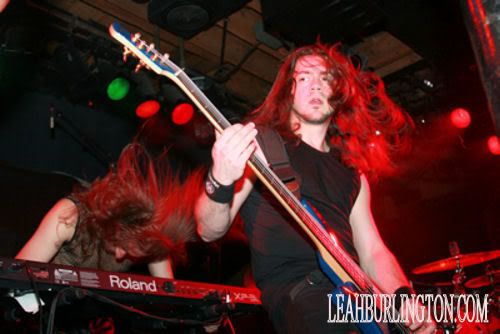 One of the Epica shredders!!

EPICA!!!
After their set and a hundred photos later,we were informed to only take one song for SX in flash and two without...that sucked as the lighting is horrible( forgive the dark photos..)...we said ok,but can we stay in the pit and watch the entire SX show so we can see,and the manager said ok, but put the cameras away after we are done...I said DONE!!! We were so stoked!!! I mean, we were only a few feet from where the sensational singer Russell Allen would perform. We were jazzed to say the least!
Symphony X!!!

Then the intro for "Set the World on Fire" started and the crowd just surged and screamed their approval as the boys in the band, Michael Romeo - Guitar Russell Allen - Vocals, Michael Pinnella - Keyboards ,Michael LePond - Bass, Jason Rullo - Percussion, came out to a crowd starved for some sick-ass Prog metal!!!
Michael Lepond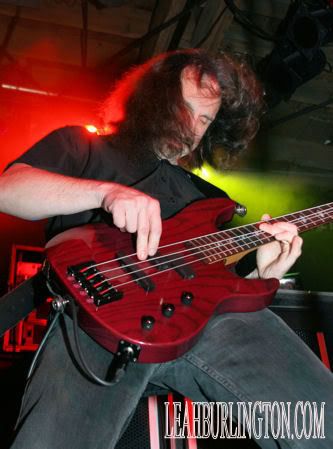 They flew through some songs from the Paradise Lost cd like "Domination" and "Serpents Kiss" then threw in "Masqerade", then straight into my fave prog/ballad," Paradise Lost". This performance by Russell brought me to tears and gave me chills. That mans voice is just beautiful !!
The AMAZING Russell Allen!!!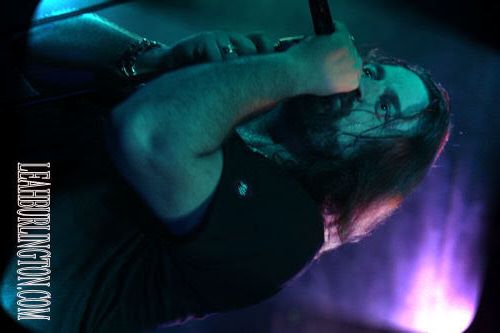 While these guys are just shredding it up the guiatrist Micael Romeo is just this guitar genius that I never knew existed!!! He was unbeliveable!!
Michael Romeo!!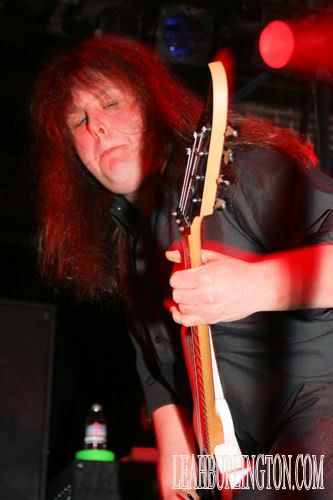 All while Russell is fucking with him as he is doing his solos while putting his hands over Mikes eyes and playing with his sharpie trying to put dots on his fretboard!! It was frikking hilareous!!! Russell was a card the whole show...making faces at me and Squeak, sticking out his tongue and coming over to sweat all over me and then at one point sang with me throwing horns for "Good and Evil"...I was freaking out!!
They then played "Egypt/Death", "Babylon" and "Inferno". This show had was so high energy and the band was on fire!! Michael Lepond was talented as hell and his bass lines were heavy! Before one of the songs Russell stopped cold and said "Arrgghh, fire the cannons Jason!!" Which meant start the drums off Jason!! Haha! It was so funny! Russell was just so ON this show! I dont know if he is always so humorus,but this was a treat for me! I know him mostly from the Allen /Lande projets with Jorn Lande singing songs with Russell, that a genius named Magnus Karlsson wrote. They are two AMAZINg cds called " The Battle" and "The Revenge"... these are two seriously wonderful cds that you should get!
Russell Allen the nut!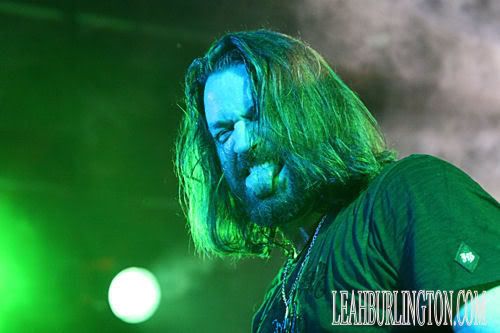 They did a couple more songs then went off the stage....the crowd was chanting Odyssey, over and over again. They really wanted to hear that song but the band came out with "Eve of Seduction" and "Of Sins and Shadows" for the encore, which didnt compare I am sure but they were happy with what they were given!!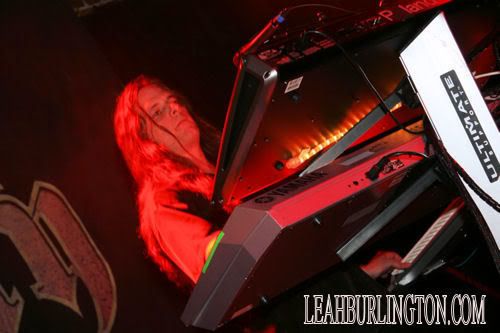 This show was amazing and I had such an incredible time with Squeak in the pit the whole time going"that would have been a sick shot!!", when we had to put our cameras away. Lol! I enjoyed Russell Allens attention throughout the show because the guy is just funny as fuck and he blew me away with his vocal abilities!!! I had an amazing time with Christian and all his buddies and after the show we hung out by the bus for like two hours waiting to get autographs and photos with the band. It was fucking so cold outside that we were numb,so we bailed out missing Russell because we couldnt take the cold anymore. We got the rest of the guys that were grascious with their time,but Michael Le pond was out there with us the whole time and was there after we left. That is one cool-ass dude!! Thanks for everything man!!

The next nite I went on the air on Christians internet radio show which is called The Savadude show. He and all his friends from the SX show were cutting up and cracking jokes and playing some seriously killer Prog/Power tunes!! Savadude even interviewd me on-air about my Rock Report and about my photography. That was a total blast!! Check out his radio show on Saturday nite on KWTF internat radio to get caught up on music that you NEED to know about!!