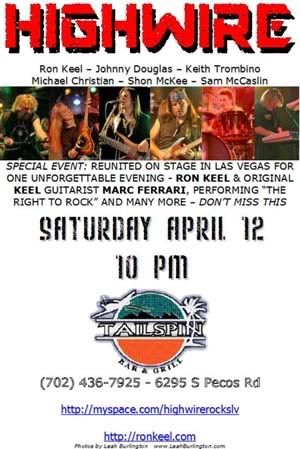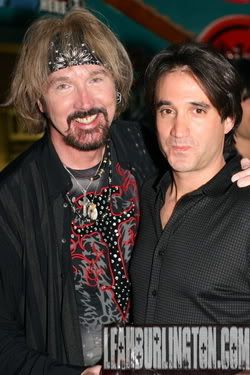 Ron Keel and Marc Ferrari...
Last nite at
Tailspin
we got a special treat that can only happen in Vegas.
Ron Keel
reuniting with his old bandmate and co-writer
Marc Ferrari
onstage with our own talented cover band,
Highwire
. This show brought out a good sized crowd even though there were tons of bands playing all over town throughout the nite.
Ron Keel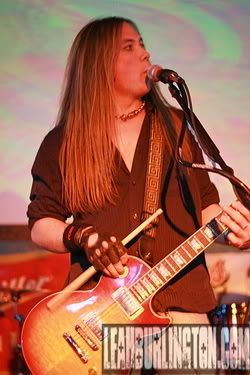 New guy Johnny Douglas!!

There was so much to choose from and people still came out to see two guys that havnt been onstage together in ages. It was a great time had by all that attended. It started off with Ron and
Highwire
doing their normal first set together of covers and then on the second set they got Marc onstage with a Les paul in hand, to play some old
KEEL
faves.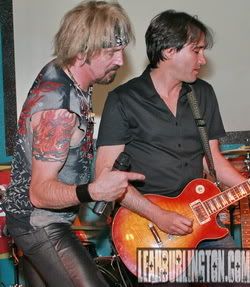 Ron and Marc together again!!
They played old hits like
Evil,Wicked,Mean and Nasty, Because the Night, I said the Wrong thing, Rock N Roll Outlaw, Tears of Fire
and of course
The right to ROCK!!!
Tears Of Fire:Live!
The Right to Rock:Live!!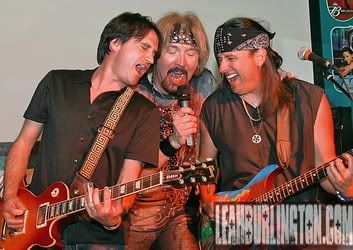 The guys with Michael Christian!
It was a smoking hot set and it looked as though the guys were having some nostalgia happening and heavy metal magic was in the air as the boys of
KEEL
blew our asses away!!!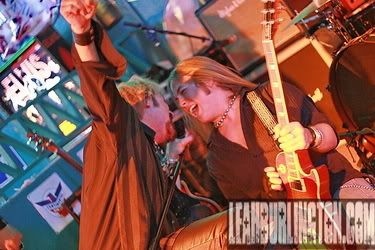 Ron and Johnny!!
After Marc played a killer set with the boys they took a break and then went on to play rockin covers til like 2:30am!! This band is tireless and even plays requests til the ealry morn hours!
Highwire
will be playing at
Rocklahoma
with
Ron Keel
i
n July in Oklahoma. This should be a blast and really a good oppertunity for the band to really get some recognition that they deserve!!
Me and Marc in '90!! How cute was he??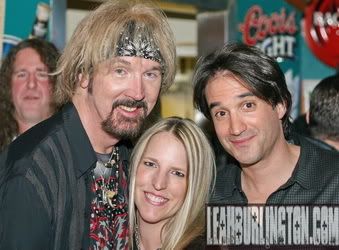 Me and the guys today!!

I got to chat with Marc for a bit before the show and brought some old
Cold Sweat
photos from 1990 when they played at
Calamity Janes
.(This was Marc's his band after
KEEL
) He enjoyed the photos and it was just weird seeing this guy who had some killer locks back in the day with such short hair. He was one of the hottest guys in his day, or at least I thought that!! He is still very cute and a sweet guy. Was cool to meet him again and see him perform with Ron after all these years! It was a kick-ass show and I enjoyed being there to see it and hang with all my Vegas friends too! You guys RAWK!!
I would give this show \m/\m/\m/\m/\m/ horns way up!!!