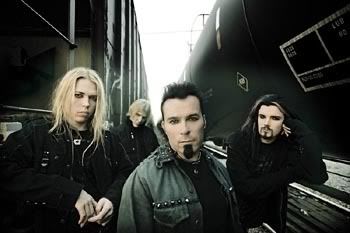 (Photo's courtesy of www. Apocalyptica.com)
When I heard that Apocalyptica was coming to Vegas I was floored. I had only heard a few songs by them and thought this would be a special show for us. I knew they were 3 guys from Finland that play metal on classical instruments called Cellos. So I knew when I went to see them that I would probably either love them or hate them, so I was intrigued.
Well to put in mildly, I LOVE them now after seeing their incredible show !!! They are three cellists named, Eicca Toppinen, Perttu kivilaakso,Paavo Lotjonan and then there is drummer extrodiniare, Mikko Sinen.
This band of talented musicians come from the far away cold land of Finland and have been together for 11 or so years with 7 cds under their belt and two dvd's. I cant believe its taken me so long to find out about these unique cello-shredders!!!
They have a new cd out called Worlds Collide and it blends some amazing vocalists on a few of the songs like Corey Taylor from Stone Sour sings "I'm not Jesus" and Christina Scabbia from Lacuna Coil sings "Anything But Love" and "I Dont Care" is sung by Adam Gontier from Three Days Grace fame. This cd is a beautiful blend of metal and classical symphony's, which is a perfect mesh when you think about it.
Metal is very close to Classical music, thats why you have seen so many metal bands play with orchestras. This isnt different to me because most the bands I listen to now are on this vein of symphonic/metal. But the Cello's being played the way they are is differnt and the beautiful music comes from the three beautiful men as they bang their heads to the music and throw horns to the crowd at their shows!! I felt right at home!!
The show started with the three guys coming out to a low lit stage with some soft classical music playing in the backround. There was one more guy I think on cello and a drummer. No guitars, no bass. They started the show with "Worlds Collide" and I was just standing there with my mouth agape at these wonders from across the world! They were just jamming like crazy. They played songs like "Grace", "Somewhere Around Nothing" and "Fight Fire With Fire."
After that major start came out the singer that is touring with them Toryn Green from Fuel. He sang "I dont Care" off the new cd and I wasn't blown away by the guy. He didnt fit in the whole metal thing. He was more of a pop looking fellow but he had a nice voice. I serioulsy would loved to have seen Roy Khan from Kamelot sing with this band. He would be perfect and I said that to my partner in crime, Taylor who I made go to the show. He was more than happy to be there!
They then came out with "Helden" which seems to be "We can Be Hero's" by Bowie sang in German. Really cool song! They played "The Unforgiven" without any vocals and the crowd sang the lyrics for the band...that was beautiful! They do a few Metallica covers because that is their thing and they did "Seek and Destroy" with "Life Burns".
They went off stage for a few minutes and came back with Toryn and he sang "I'm Not Jesus" to huge applause by the audience. I noticed that there were a lot of younger kids at this show and it was good to see the younger ones getting into this form of symphonic metal music. They finished with "Enter Sandman" and the crowd did the singing again and they totally went crazy! Of course the girls were going nuts because of the two gorgeous long haired boys on Cello that fucking bang their heads and just are like a crazy science experiment gone wild. I loved this show but was left wanting more, but I am sure that they loved the greeting they got from the Vegas crowd and will make another stop here one day soon! A few of us girls went back and met the three guys by their tour bus and they were all gracious for the love and devotion of the fans and even brought us out some promos to sign for us. They were wonderful!! Thanks guys!!! You ROCK!!!
For everything Apocalyptica go here:
http://www.apocalyptica.com/
www.myspace.com/apocalyptica
And Toryn Greens page is here:
www.myspace.com/toryn
This video gives me goosebumps!!! Bittersweet with Ville from HIM!!!
Oh my GAWD this video is just so BAD-ASS!!!!!!!!!!! I Mean fucking SICK!! Check it out!
Apocalyptica: PATH!!!
Then there is this beauty with Cristina Scabbia from Lacuna Coil..."Anything But Love"!!!
SOS (Anything But Love
I would give this show and band \m/\m/\m/\m/\m/ horns way up high!!!!!! Go see this show people!!! You will not regret it!!