FIREWIND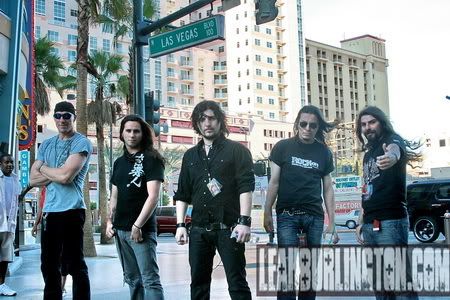 When I heard that
Firewind
from
Greece
was coming to Vegas I was shocked and then when I came to, I screamed for joy!!! This is one of my fave bands of the last couple of years from the melodic/power/metal genre. I saw them at
Prog/Power 8
in Atlanta Georgia last year and they were amazing even though their talented singer Apollo Papathanasio was MIA from that tour. They instead had Henning singing for them, some guy I never heard of, and their old singer Steven also jamming with them. I wanted to see
Apollo
whose vocals are just beautiful to me, but alas, he wasnt there. I was bummed about that. But I was redeemed this day when I got to finally meet and see the man perform at
Jillians
when they came out with
Dark Tranquility
and
Divine Heresy
. They played third after the two local bands and for only 30 minutes,but it was 30 fucking exciting minutes for me to see these greek gods blow up the stage! These guys have 5 Cds to their credit and have gone through like 4 singers, but I really hope Apollo sticks. He fits in perfectly with this form of melodic metal. Their new cd
The Premonition
is a kick ass tribute to metal at its finest! I love this cd!! They played 3 songs from the new disc and I really love "
Head up High
" a very inspirational song that is positive like most of their songs. They really have the knack for that and Apollo writes most of the lyrics now and he is so talented in his writing that I told him thank you for the words because they sometimes get me through the day! You cant have a bad day when you pop a
Firewind
cd in. The guys are humble and nice as 5 guys can get and they are very grascious to their fans. I was honored to get to shoot the guys out on the Fremont Street Experience for several shots before the show. That was exciting as hell for me. I ended up being their photographer/massage therapist for the entire nite!! What a treat!
More Fremont Street!!!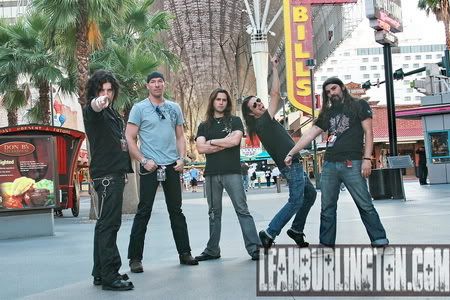 I wanted a photo pass for this show and I got a hold of guitar god
Gus G
before the show
,
and he told me it wasnt a problem. So when I showed up he was like Hey Leah! And gave me a big hug that was heartfelt and warm. I met him at PP and he remembered me which was really cool. So he got me all hooked up and we headed down to the stage after some autographs for me. I met
Apollo
too at this time and was just so blown away by how sweet and humble this man is. I dont think he has any idea how amazing he is. He is one of my fave singers out there. He is also in a band called
Evil Masquerade
that has a cd out called
Third Act
. Its a killer Prog/Power band that I hope to see live one day! (See video at the bottom of this review)
The talented and handsome Apollo Papathanasio!!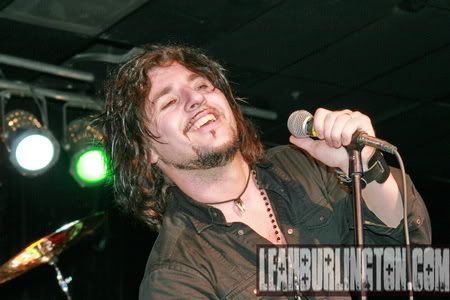 The band also consists of three other talented dudes, lets not forget!! On keyboards and guitars is Bob Katsionis, Bass monster is Petros Christo, and English/German drummer from hell Mark Cross. Gus G is one of the most talented shredders of the decade with too many bands to his credit, two of which is Arch Enemy and Mystic Prophecy. He is the heart and soul of this amazing band!!!
Check out his myspace at:
www.myspace.com/gusgoffical.com
The shredder, Gus "Freakin" G!!!!!!!!!!!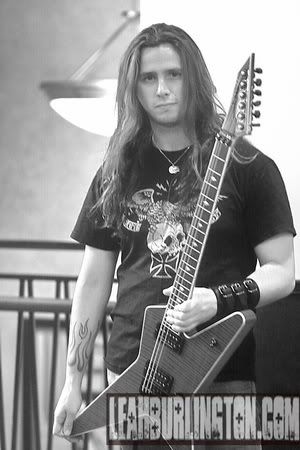 Drum God, Mark Cross!!!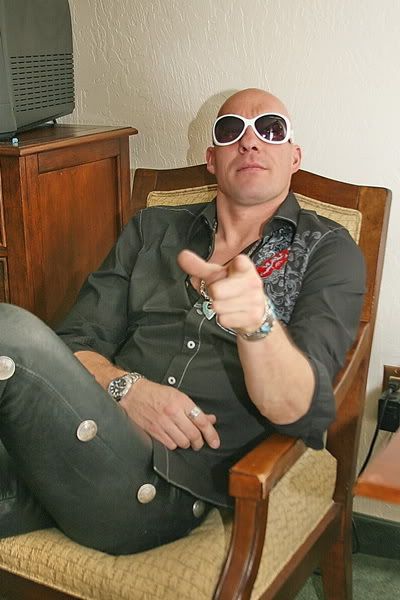 They went onstage in front of a small crowd because most the people I knew just wouldnt come out on a sunday nite for some odd reason. It bummed me out that there werent that many people there but I assure you that the people that didnt know Firewind before the show and even who they were when they walked past them, knew them after. People loved them!! They were all over them after the show wanting autographs and stuff, so I think the guys were happy about that. They surely made an impression!
Petros Christos!!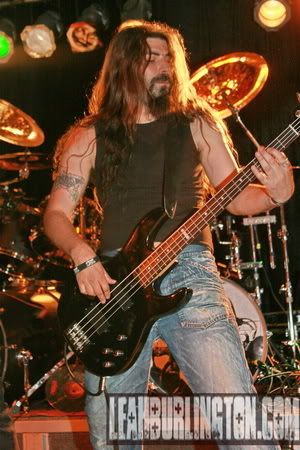 Apollo and Gus G going off
!!!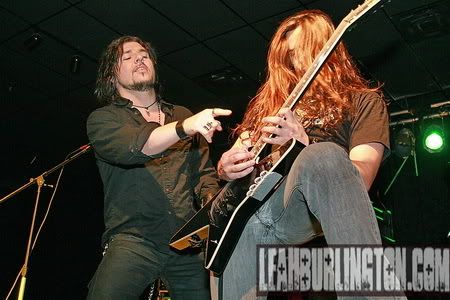 They started the set with the new song "
Into the Fire
" which kills live and "
Insanity"
from
Allegience
. I had only three songs to shoot so I was stoked the get to shoot their new single,
"Mercanary Man
", which they have a video for. I was told to get outta the photo pit after that and had to get in the crowd, but that was cool because they then Jammed out my fave tune "
Head Up High
"!!! I got to jump up and down to this song and Gus was just shredding up a storm as he does and Bob was right along with him shredding himself!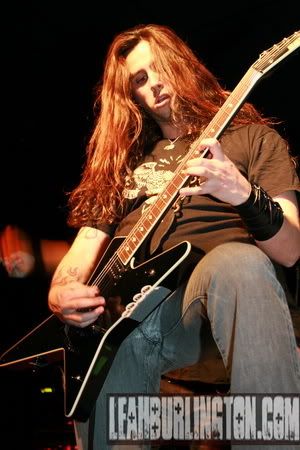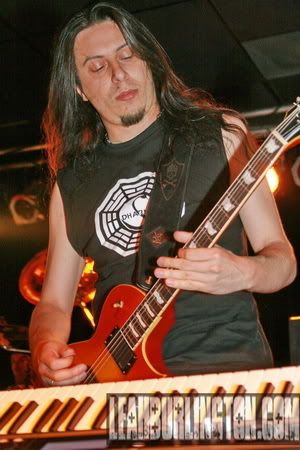 They then played "
Fire and the Fury"
which is from
Burning Earth.
They ended their spectacular but short show with "
Til the End of Time
" from
Allegience
which was fantastic, but I was just so sad it was over so fast!! Only 6 songs from this wonderful band that has 5 cds out! Not fair!
Apollo and Bob rockin!!!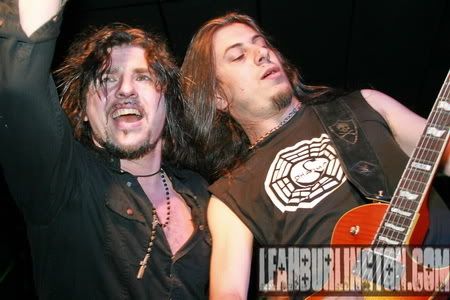 After the show they grasciouly signed autographs and took lots of photos with the fans old and new. I took some shots of Rafael and his friends with Apollo which were hilareous because Apollo kept coming up with neat ideas of where and how to get a cool shot. I got them doing all kinds of silly shit with bowling balls and them laying on the lanes and shit! I couldnt stop laughing at this great singer that was so down to earth and sweet. He told us he was a school teacher that taught history. That is really interesting and cool to me!
Apollo and Rafaels friends in the alley lanes...lol!!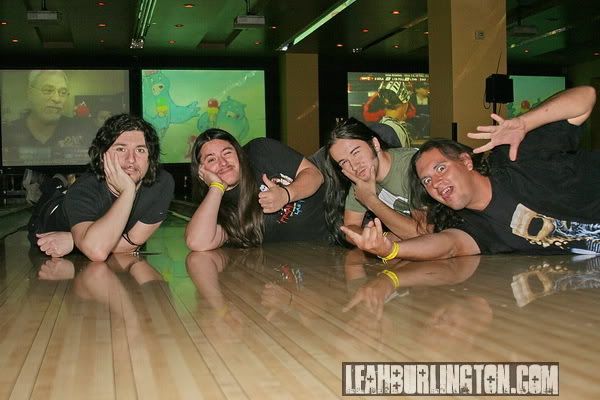 I ended up hanging with most the guys and their beautiful friend Anna til the crack of dawn. We went out on the strip and to the
Hard Rock Casino
for food, driving around in my small Focus blaring
Maiden
and singing to them and then back to the bus before they had to take off for Utah at 5am! I got to tell you this was one of the coolest bands I have ever hung out with and one of the most kick ass bands out there. They should be HUGE!! This was a short but sweet show that was still awesome, and I hope they come back and dont get discouraged on the turnout. It will be better next time, I will make sure of that!!! Go get your
Firewind
Cd
The Premonition
and check out
Allegience
too!! Dont miss these guys if they come to your town and say hi, they are a friendly bunch!!!
Bob, Anna,Apollo and Petros at the Hard Rock!!!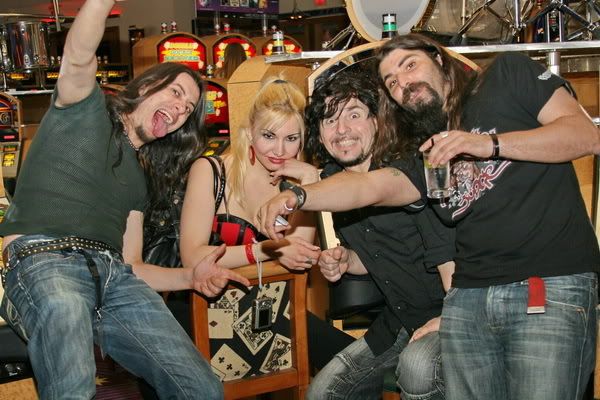 Gus, Me, Apollo and Petros waiting for the passposts to get into a club..LOL!
Sweet Bob and Apollo....love these guys!!!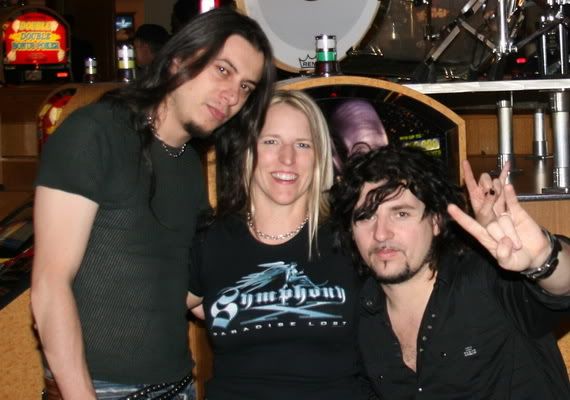 Thanks for everything guys!!!!
I would give this show \m/m\/m\/m\/m\/ waaaay up!!!
See all that is
Firewind
here:
http://www.firewind.gr.com
www.myspace.com/firewind
FIREWIND:"FALLING TO PIECES"!!
FIREWIND:"MERCENARY MAN"!!!
EVIL MASQERADE:"BLACK RAVENS CRY" (Apollo's other band!!)