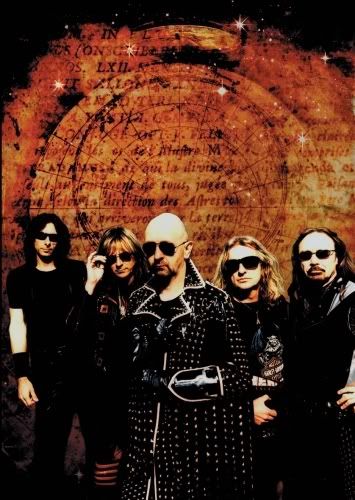 Judas Priest
stopped to do a one off show in Vegas during their "
METAL MASTERS TO
UR
" that has
Heaven and Hell,Testament and Motorhead
on the ass kicking bill. Why we didnt get the whole damn tour here we will never know, but it was bullshit. I was grateful to get my all time fave band, The Priest here never the less and didnt complain about paying extra for tix for GA/floor. I had to leave
Rock The Bayou
early monday to get home in time for a rest and then on to the show at 8pm. I missed
Twisted Sister
and
KIX
and an interview with Dee Snider to be home in time ,but it was so worth it!!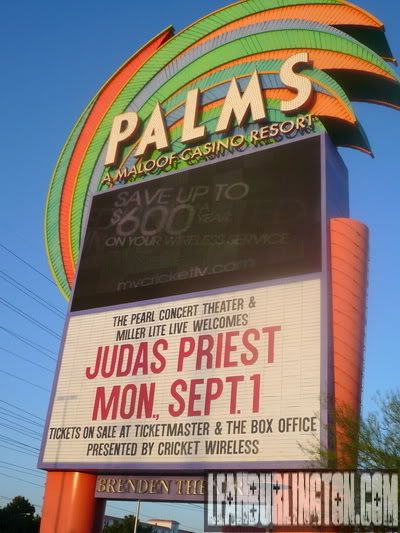 I get there a bit early and see all my peeps at the sports bar and met up with Cari who didnt have a ticket but we looked around for someone who did and Todd came through with a hook up as always. Thanks dude!!
So I go down to the floor to scope out the side of the stage on the left where we always stand and Stephanie was right up front in the middle and was yelling for me to come over. I am weary of getting up front because of the crowd that usually gets outta hand and squashes people in the front (re: blog on Maiden) but I looked around and there were mostly people up front that were my age and older and some younger fans that looked cool,so I said fuck it and stayed up there. I am so glad I did because when the lights went down we ended up being one person from the barricade and had PERFECT sight of the stage. I had my little point and shoot because someone couldnt get me a photo-pass and I was not going to come out of
Priest
without photos of my fave band...again! I was basically front and center for the spectacle that was the
Priest
and the lights went down and the ominus music from the
Prophecy
from the new cd
Nostradamus
came all low and spooky! Then
The Metal God
himself
Rob Halford
comes out on the riser with a silver cloak on and a huge staff and starts singing this killer new song and it was intense.
ROB FUCKIN HALFORD!!!
They rocked the house down with some of their best tunes first off like my fave,
Metal Gods
,
Eat Me Alive
, one I havnt heard in a while,
Painkiller's
,
Between the Hammer and the Anvil
, and
Screaming's
killer song
Devil's Child
!! It was a smorgasbord of
Priest
classics this nite and in the 28 years that I have loved this band they have never let me down at a show!! This was looking to be one of their best yet as Halford and co were just spot on and looking to be loving being onstage again!!
K.K. LOOKED GREAT AND STILL SHREDDED IT UP!!!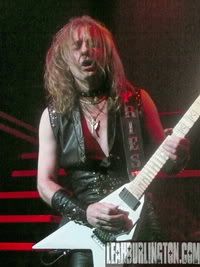 I loved the stage set up, the light show and all the theatrics that Rob was performing were amazing! He was on fire! After my unfavorite song
Breakin' the Law
and the kick ass
Hell Patrol
the dark and haunting new song from
Nostradamus
,
DEATH
,
plodded out slowly and eeerily and Rob came out on a royal throne and got up and walked all like he was an ancient man all hunched over and creakingly moving towards the front of the stage. All the while singing this strange song. It was freaky to watch....bravo Rob!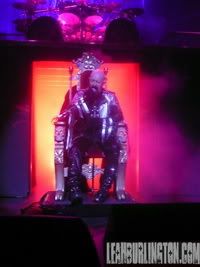 K.K.!!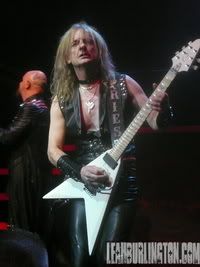 ROB!!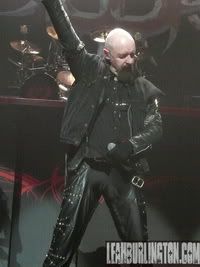 They proceeded to break that up with
Dissident Agressor
from their first successful record
Sin After Sin,
and lifted my heart with
Angel
from the
Angel of Retribution
cd!! That is one beautiful song that goes well live! Then they proceeded to blow us away with one of the most reveered
Priest
songs from
Screaming
,
Electric Eye
!! They brought the house down with that as they always do...as people were screaming the song!!! They then kicked my ass big time with
Rock Hard, Ride Free
one of my fave songs ever!!! After that beating and when I thought my neck could take no more, the familiar wailing of K.K. Downings guitar solo of
Sinner
started....I thought I would weep as this song live is just incredible!!! Watching him play those solos of that particular song just brought me back to the old glory days of
Priest
even though I was just a lil kid when this song came out from
Sin After Sin
some 30+ years ago...it was spectacular!! These songs still are amazing after all these years!!
After that song I was exhausted from screaming and singing.......then the frantic drumming of the beginnings of
Painkiller
started up and the crowd went WILD!! When you think you can take no more, you seem to get a burst of energy when you hear another song that is as brutal as this just pounding you into submission!!! It was sick as hell!!!
HELL BENT FOR LEATHER!!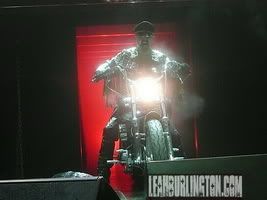 The next song is the reason I bought my leather jacket in the 80's..... you hear the rumbeling of a harley and the lights go down and then the familiar shape of the Metal God comes out on his 500cc bike of choice and rocks
Hell Bent for Leather
with a Vengence being where he was always meant to stay in the greatest
Heavy Metal
band to ever walk the face of the planet!!
Judas "fuckin" Priest
!!!!!!!!!!!! Again the crowd is blown away!!! The Metal Gods returned to deliver the goods!!!
One of my fave poses of the night!!!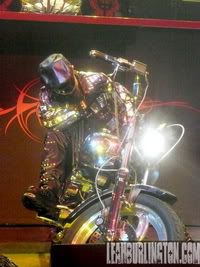 Rob rockin the American flag!!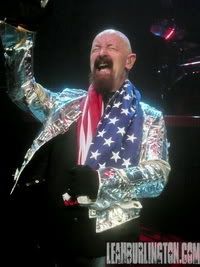 Glenn Tipton still looking good after all these years!!
They wound down this amazing fucking set of classics with an oldie
Green Manalishi
...this is not one of my faves but I couldnt take much more because the old neck couldnt do much more headbanging at this point. I was completely satisfied with my all time fave band and just sweaty and happy! They ended with
You Got Another Thing Coming
and blew the roof off the house!!!
Judas
Pr
iest
has been around 38 years and they still rock our asses off and continue to be
Hell bent for Leather and they Rock hard and Ride Free
!!! Two more years and they will be into their 40th year! I cant wait for THAT anniversary tour and hope they have another 10 years under their belt just like the Stones....if they can do it so can the Priest!!!!
Greatest true metal band in the world!!!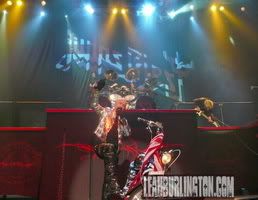 Killer set list!!!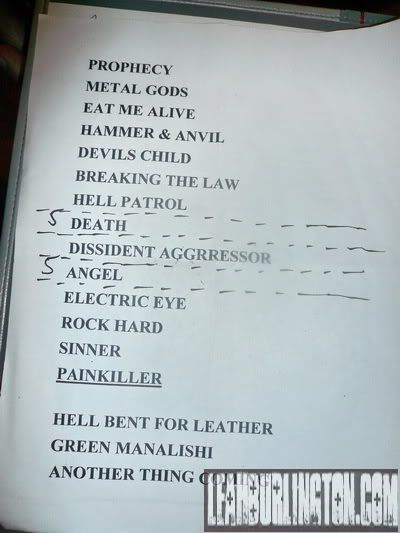 After the show I got the pleasure of meeting
Ian Hill
again and he was so kind and signed my
Heavy Metal Painkillers
book that my photos were published in!!! He rocks!! I also got
Scott Travis
to sign it too...Great guys!!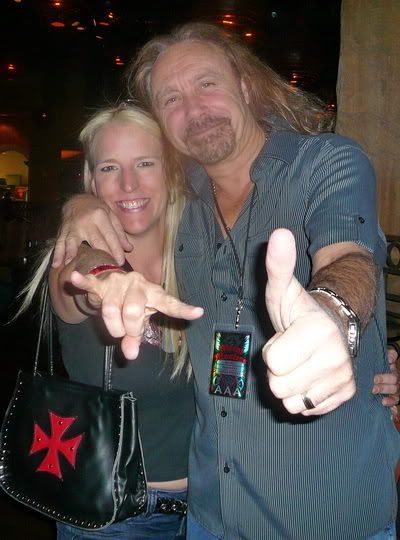 You can find more about The Priest at:
http://www.myspace.com/judaspriest
http://judaspriest.com/
And the tour is still on:
Feb 13 2009
8:00P
Sheffield Arena
Sheffield
Feb 14 2009
8:00P
Birmingham LG Arena
Birmingham
Feb 16 2009
8:00P
Glasgow SECC Hall 4
Glasgow
Feb 17 2009
8:00P
Manchester Arena
Manchester
Feb 18 2009
8:00P
Nottingham Arena
Nottingham
Feb 20 2009
8:00P
Cardiff Arena
Cardiff
Feb 21 2009
8:00P
Wembley Arena
London
I would give this SHOW the TOO MUCH METAL FOR ONE HAND SALUTE!! \mm/