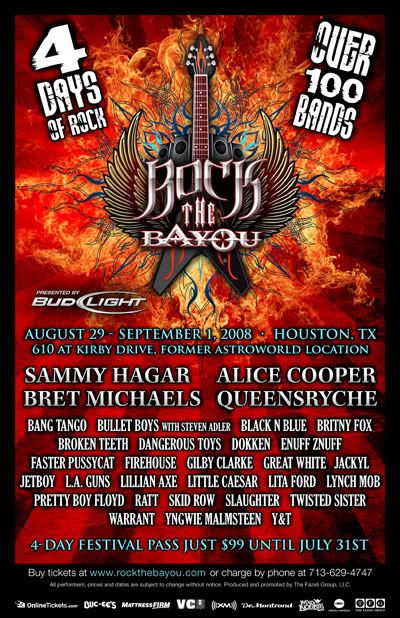 I found out about Rock The Bayou from my staff friends of KWTF, the internet radio station that I work out of. Mostly from Texas Beth who lives in Houston that helped promote this fest on her Myspace, on their forum and on KWTF. This woman was tireless getting the word out and playing all kinds of unsigned and local acts from the Texas area. I didnt even really know about it until she was telling me how fun it would be and who all the bands were. Then I thought it might be a fun show to go to even if only for two days. That was all I could get out of at work and Priest was on Monday nite and I had to get back for that!! I decided I would go down there and shoot the show and help out where I could doing interviews and what have ya. Beth got me all hooked up with a media badge and Robert (our fearless leader) got me a free room at the Ramada. He even was going to pick me up at the airport and drive my happy ass around!! Killer deal so I booked the flight to Houston Texas...somewhere I have never been and probably will never go to again...at least at that time of year..I will get to that later!
MY FIRST DAY AT RTB AND THE SECOND FEST DAY!!!!
-------------------------------------------------------------------------------------------------
I get to the fest area after checking into my hotel and I am feeling the heat and the humidity like right away. Robert gets me to the fest and we meet up with Beth who is in the press tent with our computers all set up and we are "live" streaming. The press tent has a bunch of media peeps in it and we are the ONLY internet radio station thats allowed in there...That is killer!!
So I get there and the Bullet Boys are on and being as I have seen them not too long ago I am just scoping the place out instead.....the press area, the backstage area, the beer tent. (that I never got to enjoy.) There was an interview schedule to get ready for and lots of bands playing. I realised my friends band Cockpit is going on right away..but it way across the field. I call Linda Lou and she sez to get my ass over there...I walked it seemed like a mile (there were 4 stages in a huge grassy field) grabbed me some nachos and went to see the all girl band from LA,Cockpit!! It was broad daylight and hot as hades but these chicks were rocking!!! It was cool to see them since its been ages since I have.
Cockpit RAWKIN!!!!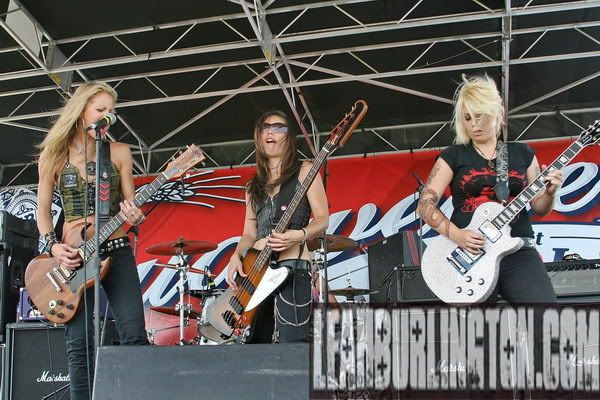 The beautiful and talented Linda Lou!!!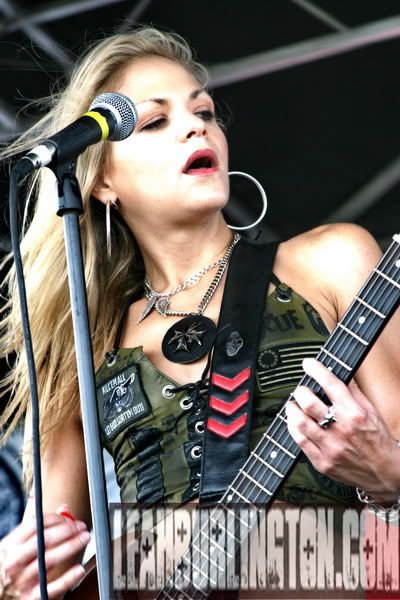 My first interview was with the
Cockpit
girls and they gave me their demo cd that is out now called
"Mission to Rock!!!!!!!!!!"
Interview schedule!!!
Believe me we didnt get half of these bands...it was too fucking crazy!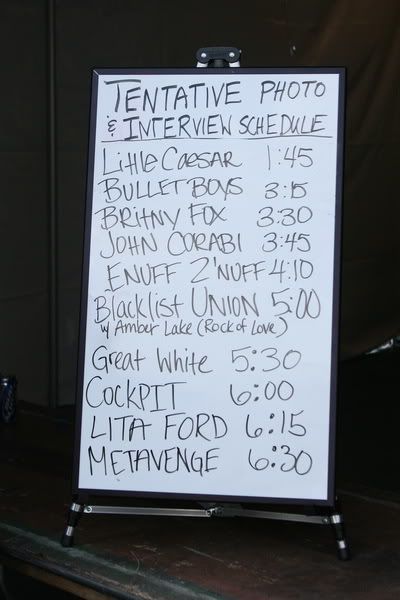 When I got back from my trek, there was
John Corabi
just hangin about by the tent. He was nice enough to pose for a pic and and I got him with Cockpit too!!
John Corabi!!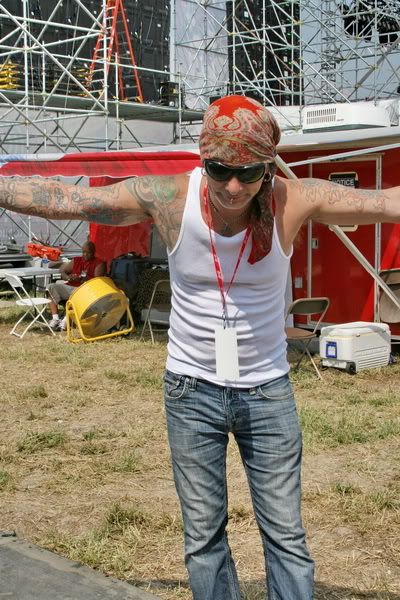 I finally saw Christian or as we call him Savadude, and we got togther with Texas beth for a KWTF pic!!
The KWTFWorldwide Staff in the Press/Media Tent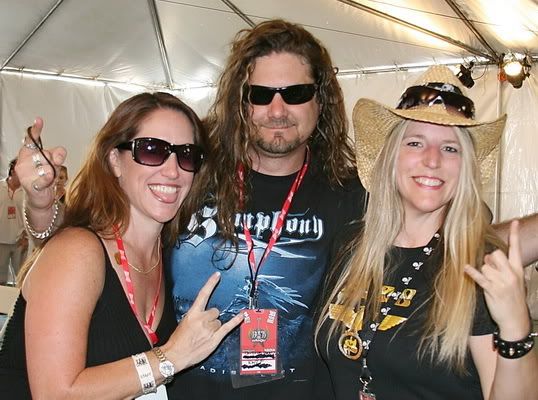 We had a cooler of free new alcoholic ice packs called Iguanas that were like margarita's that all the bands were getting bribed to come visit us with by Beth...nothing like something that is FREE!!! Lol!
Donni V of Enuff's Enuff snagging our Iguana's!!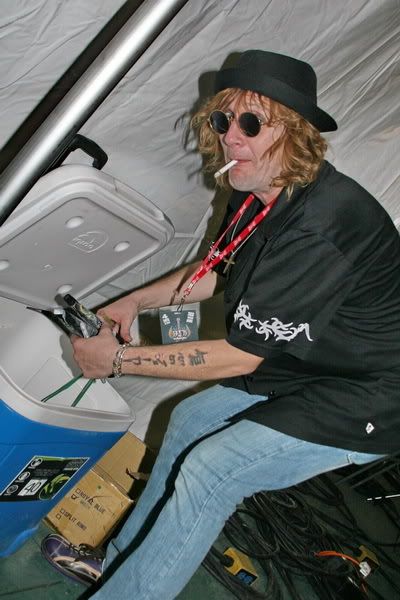 Marc Torien and Alicia Blu of Cockpit!!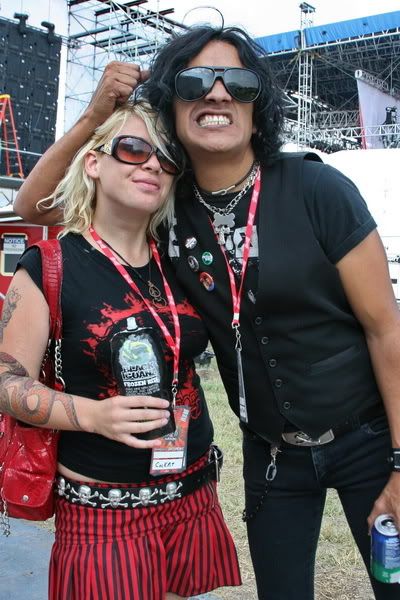 Marc Torien of the BULLET BOYS!!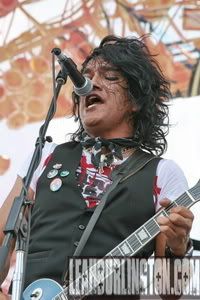 Bands were just hanging around so I could get all kinds of shots of them...it was a blast!!
COCKPIT and JOHN CORABI!!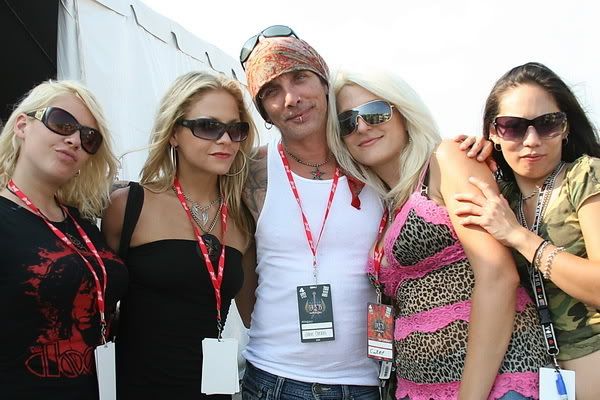 DONNIE V OF ENUFF'S ENUFF...LIVE!!
TEXAS BETH AND NASTY PISTOLERO OF THE GYPSY PISTOLEROS!!! He is so adorable!!!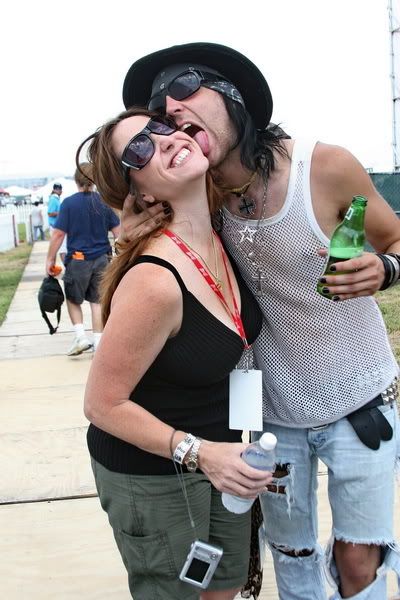 JACK RUSSELL OF GREAT WHITE!!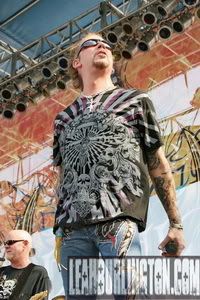 GREAT WHITE: LIVE!! They ROCKED!!!!!!!!!!!!!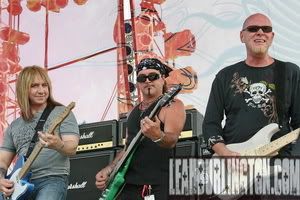 I got the pleasure of chatting with
Great White
for a bit and it was great that Michael Lardie remembered me from waaay back in the day when he used to come to a casino I worked at and play on my slot machines...it was funny!!
ME AND GREAT WHITE IN THE MEDIA TENT!!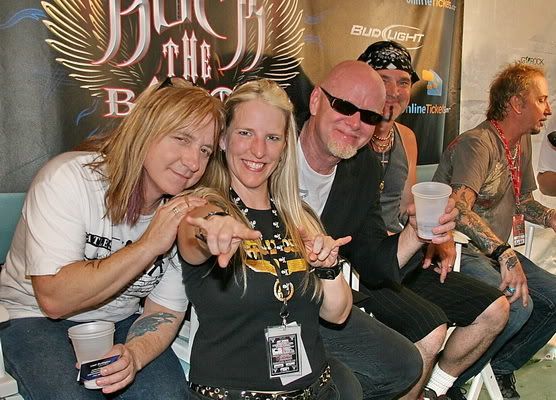 This band
Outworld
is sick as hell...they arnt togther anymore which is sad but the music they did spoke for itself!!!
SHAWN AND BOBBY OF OUTWORLD FAME!!

Dokken was just Don with a new band I never have seen and he looked bored as usual..he never looks like he is enjoying singing anymore...bums me out.
DON DOKKEN: LIVE...or at least sort of live...hehe.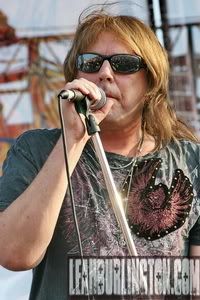 This guy Fi Fi was on
Gene Simmons Family Jewels
. It was the episode when all Genes memoribilla got wet from a flood in the house and Shannon and her sis had to go to fans homes and buy stuff to replace it...this guy was one of the fans...he was like I would give you the whole collection if you could get my band to open for KISS!!! LOL!!That was CLASSIC!!!
A new crazy band..FI FI LA RUE!!!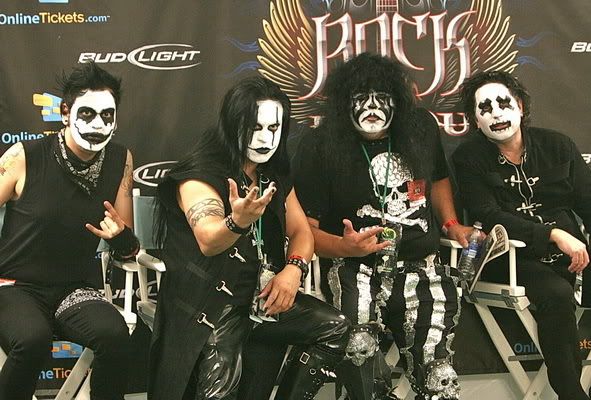 LITA FORD'S WARLOCK WAITING FOR HER....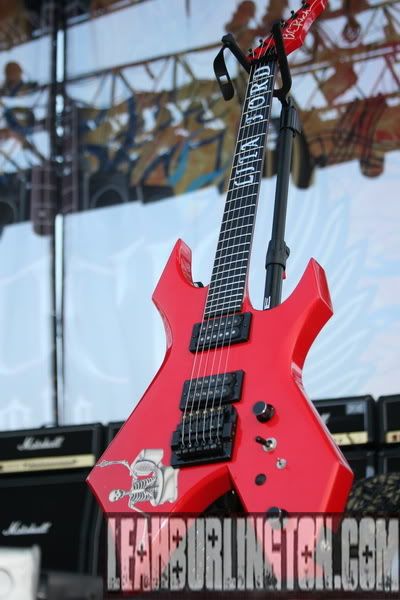 Lita Ford
was amazing live...they had some tech difficulties but I think she just rawked!!! If she wasnt so surrounded by security because of her overprotective hubby, Jim Gillette, I would have got a photo with her...Bah!!
LITA FREAKIN FORD: LIVE!!!!!!!!!!!!!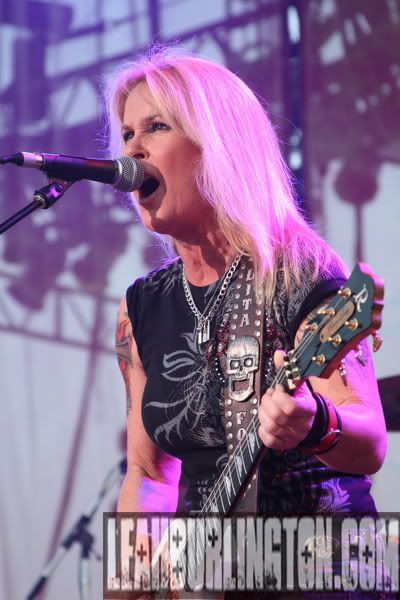 LITA JAMMIN WITH MIKE T. ROSS!!!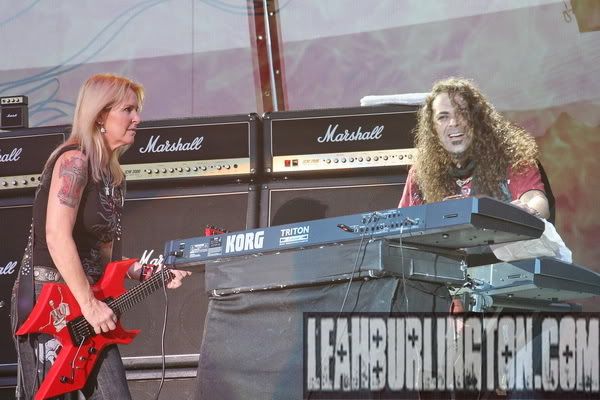 LITA IN THE MEDIA TENT SAYIN' TA DAH!!!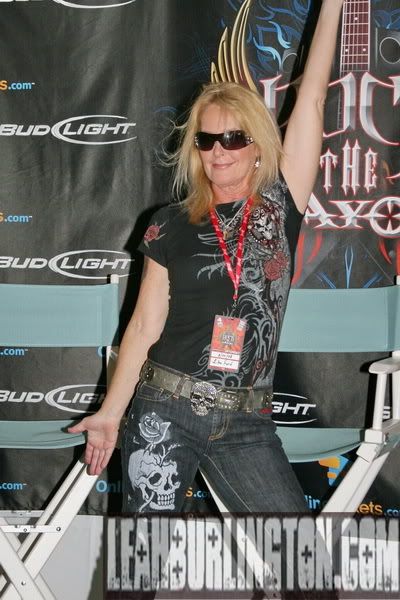 What can you say about Sammy??? The guy RAWKS...he always does and always will...I always love his high energy show and have got him to sign stuff I have put onstage three times!!! Thats how cool he is..didnt meet him though...again!!
SAMMY 'THE RED ROCKER" HAGAR!!!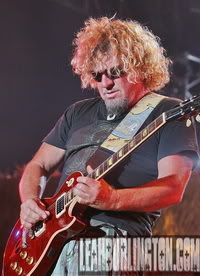 MAS TEQUILA~~~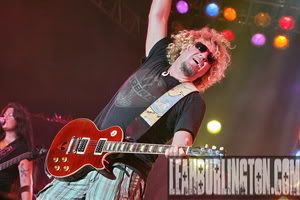 By the end of the day I was feeling very sick...headachy and naseous. I was not having much fun because of that reason. The humidity in the press tent was worse then outside, but outside was just brutally hot and bright. We were out there for hours of course and I drank water all freakin day and found a purpous for the Iguana's..ice packs for my neck..thank GAWD for that!! Nothing helped though. So after the show was the After Party at the
Meridian,
a rock club about 20 minutes away. Me and Robert waited in line then got in and hung out for a bit. I thought it would be nice to feel good at that point and had two cocktails.....and unfortunatley they didnt stay with me long so I was ready to bail within an hour I suppose. Cockpit played again (they said they played a total of 5 times that weekend!!!) and so did John Corabi...an acoustic set. It was time to get some rest. We got back to the hotel by 4 am and I had to at least get some sleep because wake up was 10 am because I didnt want to miss Black N Blue,who of course was to go on FIRST at 11:30 am...fuck!!!! : P
THIRD DAY AUG 31ST...MY SICK DAY.... : p
------------------------------------------------------------------------------

So I got up at 10 am feeling pretty good and like I could be fine for the second day of the fest. We get there and within a few mins Black n Blue went on...it was already hot as the devil and I was up front of the stage rockin out to one of my fave bands of the 80's that I havent seen in 20 freakin years!!! I saw that Patrick the bass player was looking like he was going to pass out...that wasnt good. He made it though and they played a KILLER set with all my faves including, Heat it up Burn it out, hold on to 18, and Live it Up!!! I was so stoked and got great shots so I was happy for the moment...
FIRST BAND AT 11:30Aam.....
BLACK N BLUE!!!!!! JAIME ST. JAMES!!!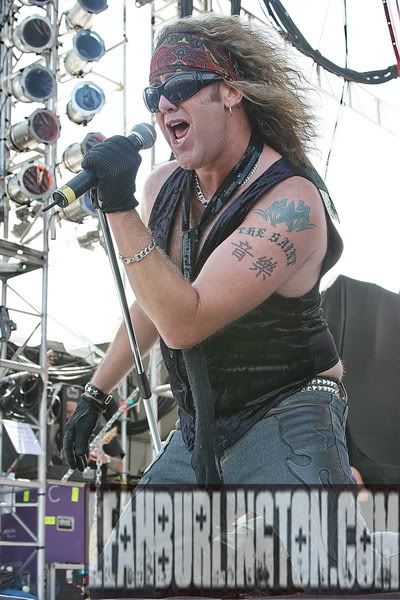 BLACK N BLUE LIVE!!!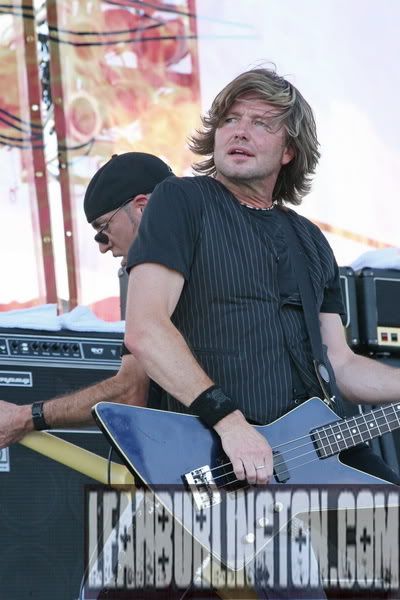 After their set I went back to the Press tent to a surprise that
Jaime St. Jame
s was there and I was getting an interview (Thanks Roberto!!!) So he comes over and we reminisce because we have met a few times before and partied in Portland Ore, their hometown and Vegas. He was really sweet and answered all my questions wonderfully! He told me they will have a new cd out soon called..Hell Yeah!! I said hell yeah...finally!!! It was so great to see them rocking again!
JAIME AND I AFTER OUR INTERVIEW!!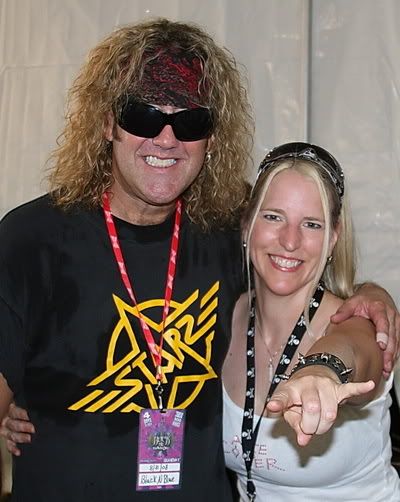 Only original member left in Lillian Axe....
STEVE BLAZE OF LILLIAN AXE!!!
BETH INTERVIEWING ROCKETS TO RUIN!!

Holy shit man the TOYs were sick as hell!!! I forgot how kick ass this band was back in the day!! I even saw them in Vegas a few times and they always rocked!!!!
DANGEROUS TOYS!!!!!!!!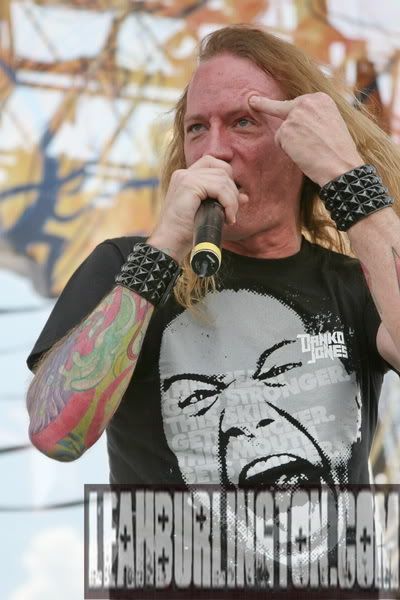 After the Toys I got really sick...I was about to pass out and got Robert to take me to get some food away from the fest because the concessions were awful. We went to the Crab Shack and I just got so sick I was like take me back to the hotel...pleeeese. I never felt so awful. So the heat and the humidity got me bad and I had to rest up at the hotel for a few hours and after I finally was able to eat, I got Robert to come back and take me back in time for
Alice Cooper
.
---------------------------------------------------------------------------------------
AFTER A FOUR HOUR BREAK...ALICE COOPER!!!!!!!!!!!!!!
I get back there and everyone is booted from the press tent. Alice's people are kicking everyone out and no-one can get in the photo pit without a Alice Pass...I was so pissed at that I was like what did I come back for? But I got my camera and went in the VIP area just like everyone else with cameras and shot the enire show...fuck it!!! There were cameras everywhere!! So at least I got my coveted Coop shots and got to see the show up close. And it was a really twisted show!!!
Instead of them using the Gullitine he was hung. He did all the classics and was phenomanal...so was his killer band!!!
My fave pic from Schools Out!!!!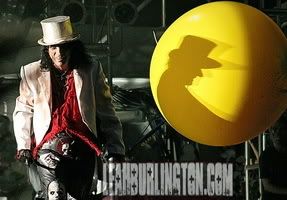 GETTING HUNG!!!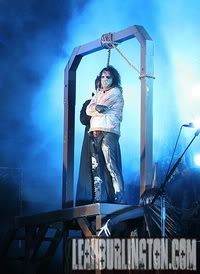 COLD ETHEL!!!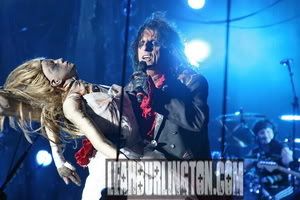 SUNDAY NITES AFTER-PARTY AT THE MERIDIAN=CRAZY!! I actually made it!!
-------------------------------------------------------------------------------------------------

COCKPIT PLAYED SATURDAY AFTER PARTY!!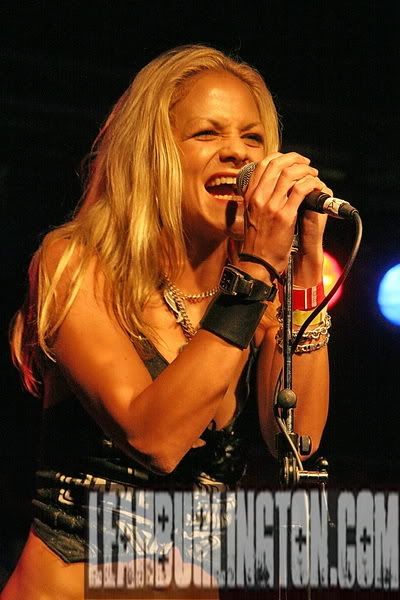 ROBERT OUR KWTF BOSS!!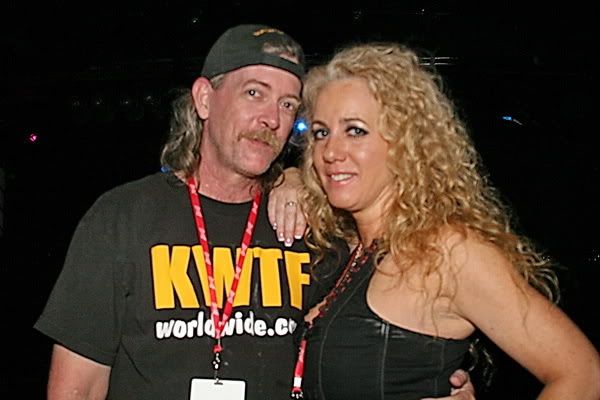 One of the highlights was hearing and seeing
Calico Cooper
singing with the Enuff's Enuff guys and she was serioulsy rocking!!!!
CALICO COOPER AND DONNIE V SINGING IT UP!!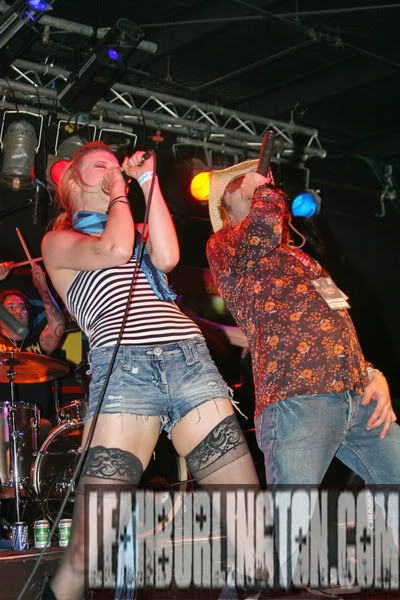 CALICO COOPER: LIKE FATHER LIKE DAUGHTER!!!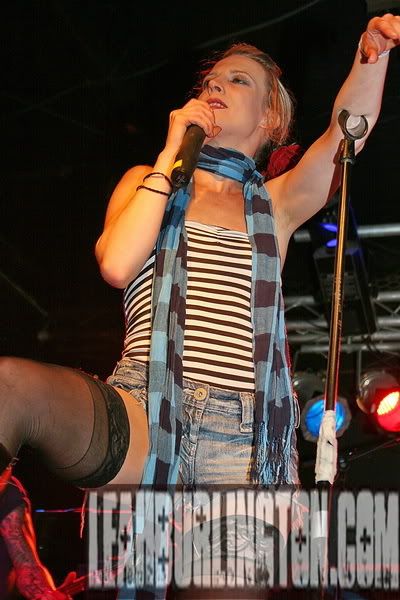 SHAWN,BETH And HER FRIEND RACHEL!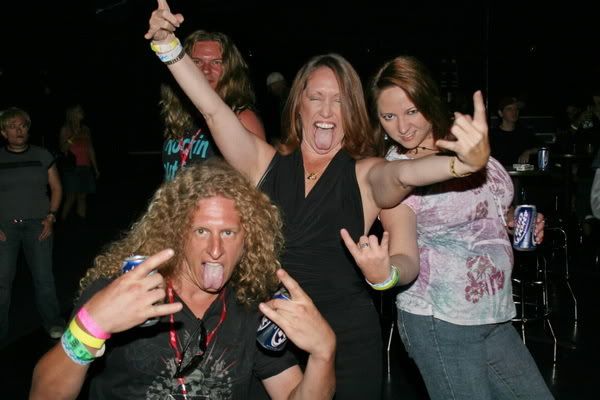 BEAUTIFUL CREATURES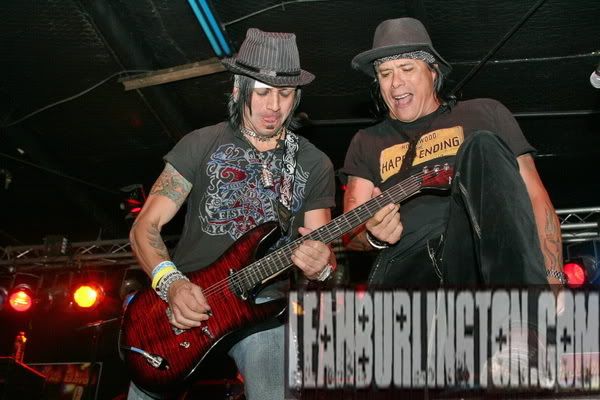 TERRY FROM STAGGERCRAWL AND TOMMI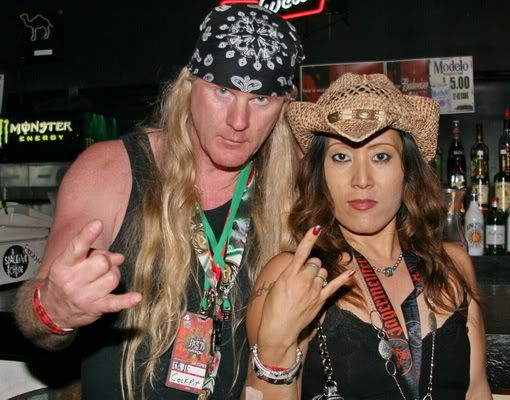 THE SINGER FOR LIT AND BETH!!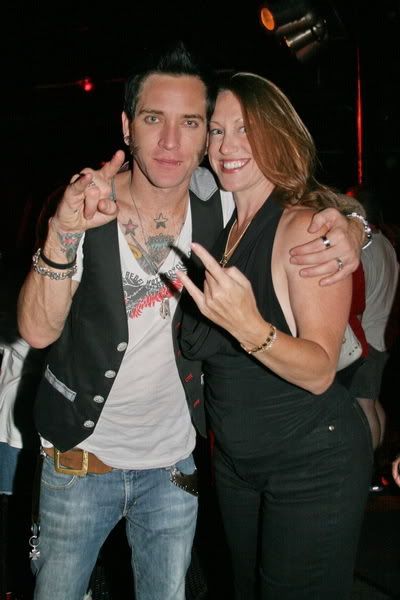 This band was the highlight for me of the after party!!!! I love their originality and energy!!! They are fun guys with all kinds of spunk and silliness!!!Loved the live show and the tunes that are like metal/glam/sleaze/flamenco....it makes no sense but then it does when you see them!!
THE GYPSY PISTOLEROS LIVE!!!!!!!!!!!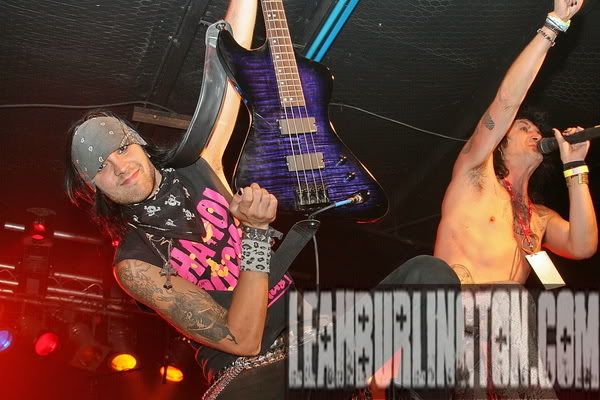 NASTY PISTOLERO!!!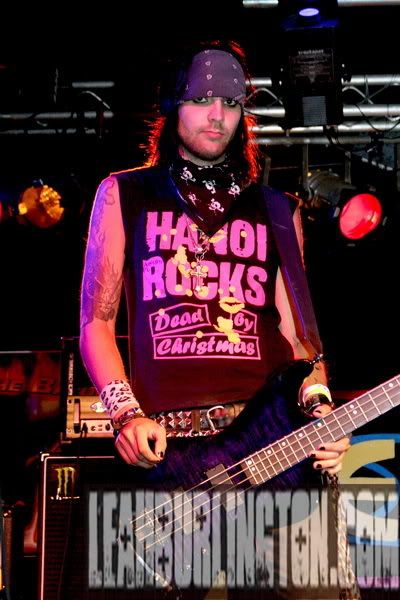 NEW FRIENDS AT THE PARTY!!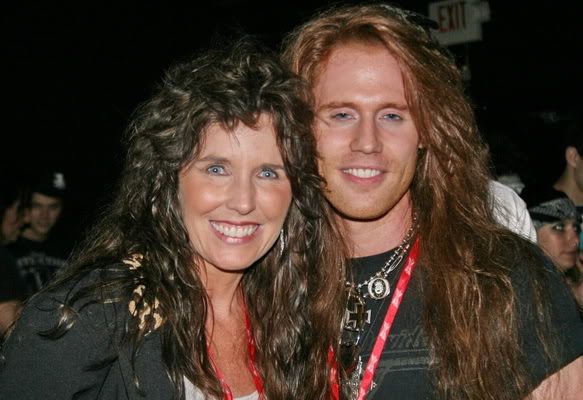 LUCHO FROM MAGISTRAL AND SHAWN FROM OUTWORLD!!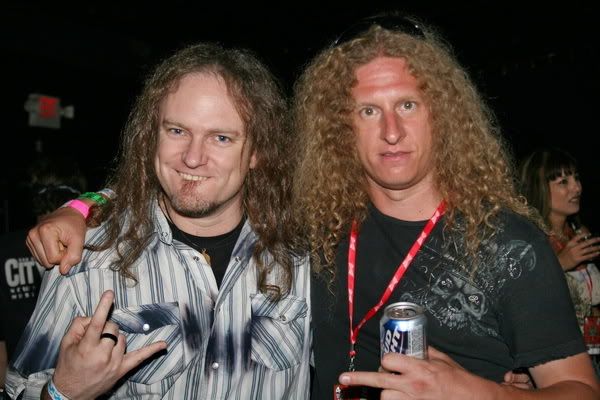 LUCHO ME AND MARC PATTISON FROM FUTURES END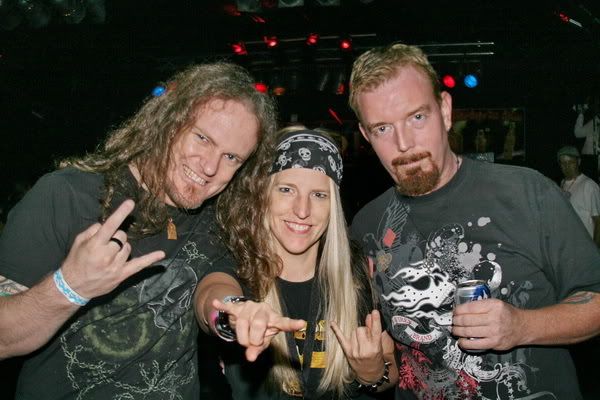 MARTY NEW SINGER FOR LA GUNS(TRACII VERSION) AND ROCKSTAR INXS FAME!!

The after party was at least cooler and fun to be at since all thise great bands were jammin out and I am so glad I got to see the
Pistoleros
since I missed them on a side stage. They kick some ass people!! The nite was long though and it was time to bail at about 4 am again because the plane ride would be early in the morn to get home in time for Priest!!!
I would say that if you want to survive a fest like this in Houston or Rocklahoma...get lots of water in you...stay away from alcohol during the day and drink water along with the beer at nite....the dehydration factor is strong and you have to stay hydrated. Get 50 spf sunblock, bring a hat and if you can, your own food.. the food is nasty out there. I wouldnt trust it..that may have been a contrbuting factor of me being so sick...spicy red beans and rice and sausages not good when its so hot outside. It made me sweat even more : P...all I remember is being just sweaty all day...ewwww! Thank God Vegas is a dry heat...its so much easier to deal with!!
It was a good time and the bands were great...there were too many because I couldnt even get to the side stages but once...too far to walk in that heat..but thats just me. I dont know how other fared in that heat.
I appreciate the media and the access, so thanks to Ryan and Beth for that and Robert for driving my miserable ass around and putting up with me whining...hehe. (It was bad!!)
I would have to say: a better time of year if they want to do it in Houston again...and we were a week away from hurricane Ike too!!! Thank God it was a week later...would have been a mess!!
Thanks to all and keep ROCKING!!!!
See ya at Prog/Power 9 in Atlanta!!!!
http://www.rockthebayou.com/