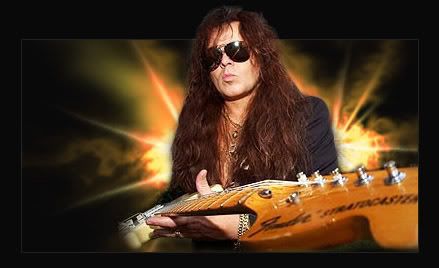 (Photo courtesy of
http://www.yngwiemalmsteen.com/
)
When I heard
Tim "The Ripper" Owens
was joining
Yngwie Malmsteen
on his 2008 tour, I was a bit skeptical about it because we all know how Yngwie has a rep of being a difficult musician to work for. Tim is used to working with difficult musicians, though, as he has worked with Priest and Jon Schaffer of Iced Earth and did a stand up job with both as we all know. He also has his own excellent metal band called Beyond Fear.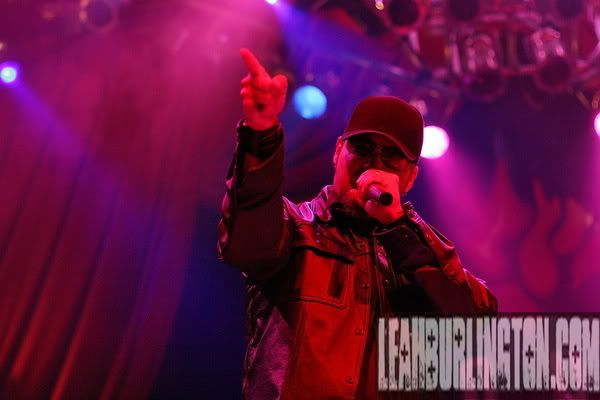 Malmsteen has a new cd out called
Perpetual Flame
and I havnt had a chance to listen to it yet but if Tim is singing on it I am sure it is a killer album. The touring line up for the Perpetual Flame Tour is Rising Force mainstay,
Patrick Johnsson
(Drums) and three new guys,
Michael Troy
(Keyboards);
Tim 'Ripper' Owens
(Vocals) and
Bjorn Englen
(Bass). ( Below...)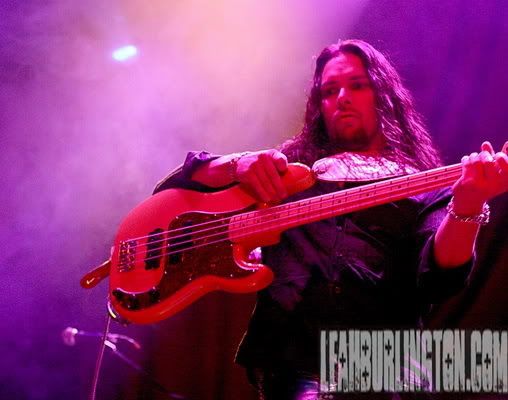 I am not a huge Malmsteen fan and have only seen him once in 88 , I think, with Joe Lynn Turner on vocals,who was one of my fave singers of the day, and Lita Ford, who opened up for him in Portland Oregon. That was a killer show because I loved Joe Lynn! This show tonight was also a show I went to to see the singer. Tim Owens has been one of my fave singers for his about 8 years stint in Priest, and I saw him live about 4 times with them and he always blew me away. And then he was also in my other fave band Iced Earth and kicked my ass live on a few occasions when I saw them. Tim has one of the most amazing voices in Metal and never cracks or has wear in his voice! He is absolutely perfection live and it almost hurts your ears when he belts out those high notes! He was the highlight of the show tonight and whenever he came out onstage after Yngwies long solo's I was so happy to see him. His presence is always so endearing and he just smiles and has fun onstage.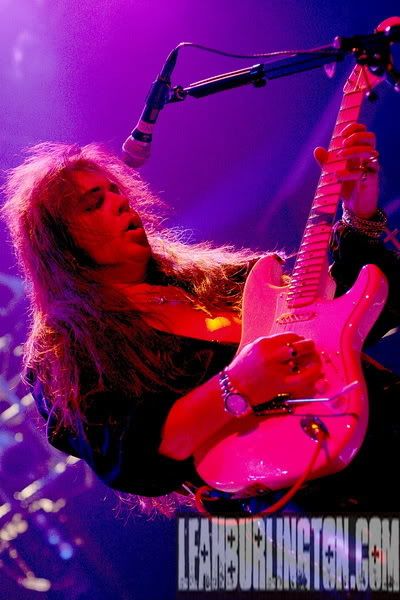 I am not familiar with many songs on this tour as I said I am not a huge fan of Malmsteen but the songs sounded killer with Tim on vocals and the band was sharp! Yngwie and Tim seemed to have a nice comradirie and complimented each other with smiles and fun! After about every song, Yngwie did a guitar solo, as thats what he does and they are done well, but to me it got old after a while.But, I am not one to judge because I am just a fan of music not a musician.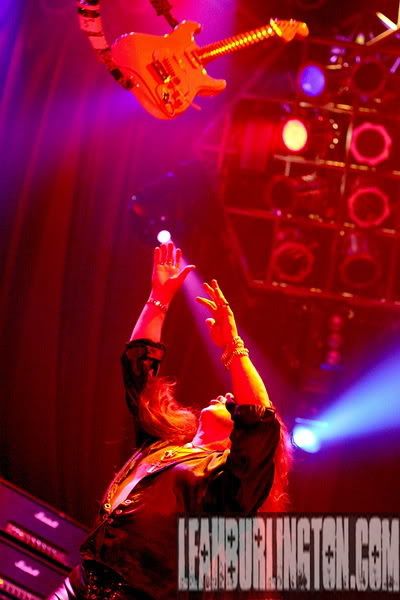 He pulled strings off the guitar, ran it along the stage, threw it up in the air,played with his teeth, and did all sorts of crazy shit with that thing. He did all kinds of stylish guitar tricks and stuff only a musician would know, so it went over my head a bit. I know he is one of the best out there, but a solo after about every song is a bit much. I was so happy to see Tim come back to the stage everytime the solo was over.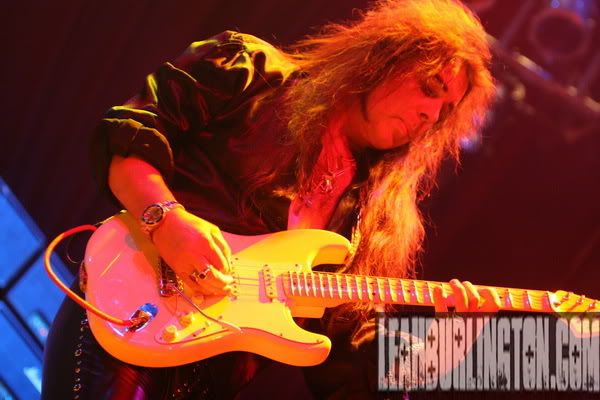 I enjoyed the show because of Tim, I wont lie, and Yngwie was amazing at times, but I was a bit bored. I know I will get flack for that but I am being honest here. His music is great, and it was entertaining. But I would like to hear more songs. Good work Tim!!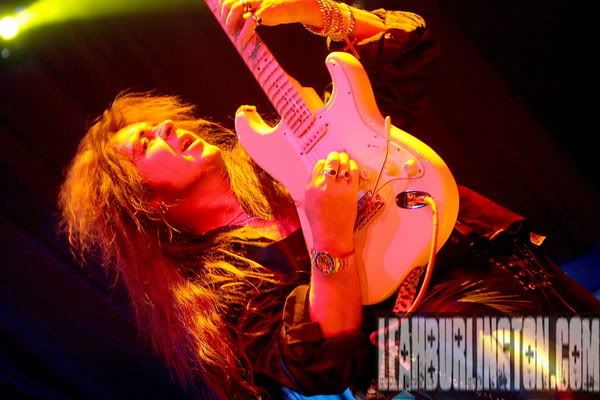 The set list included: Death Dealer,Demon Driver,Damnation Game,Badinere,Crown ofThorns,Far Beyond the Sun,Paraphrase and Dreaming (on acoustic),Rising Force,Baraque and Roll,I am Viking,Rise Up,Trilogy,Cherokee warrior,The Fugue,You Dont Remember.With encores, Black Star and I'll See the Light.
I would give this show a \m/\m/\m/\m/ horns up only because Ripper stole the show!!

------------------------------------------------------------------------------------------
Yngwie's neo-classical compositions fueled the ears of fans and the ambitions of aspiring guitarists worldwide for over a decade with such powerhouse classic albums as Marching Out, Trilogy, Odyssey, Live in Leningrad / Trial By Fire (gold-selling concert video of Yngwie's 1989 sold-out concerts in Moscow and Leningrad), Fire & Ice (which debuted in Japan at #1 and sold over 100,000 copies on the day of its release), The Seventh Sign, Magnum Opus, Inspiration (covering the music of Deep Purple, Rainbow, U.K., Kansas, Scorpions, Rush, and Jimi Hendrix), Facing the Animal, Alchemy, and Attack!!
( Taken from
http://www.yngwiemalmsteen.com/
)
http://www.myspace.com/yngwiemalmsteen
http://www.yngwiemalmsteen.com/
( Review also posted on
www.rockoveramerica.com
)