( Top photos: courtesy of
http://www.alicecooper.com/
)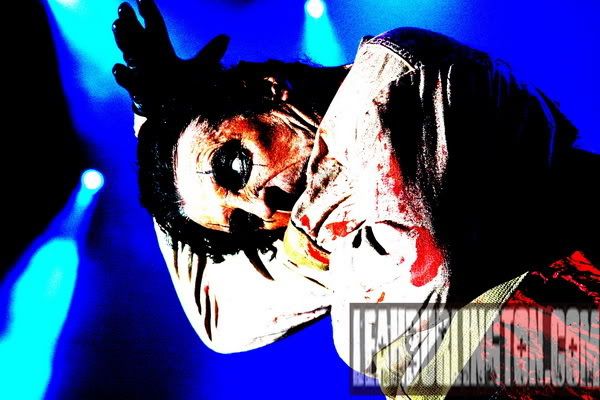 If it wasnt for
Alice Cooper
, there would be no shock rockers that we have had access to for all these years. There would be no
KISS
because they saw Alice and then decided to put on makeup. Then we wouldnt have a Manson or Zombie either. Alice has been shocking audiences since 1971 when the Alice Cooper Group put out their first record
Love It To Death
, with their first Smash Monster hit "I'm Eighteen", put out several records before he went solo in 1975 with
Welcome To My Nightmare
and has been scaring small children ever since. His new release, Along Came a Spider, is a concept album that is about challenging reality by Alice Cooper inhabiting the identity of a serial killer who imagines himself a spider. As he has in the past, Alice chronicles a classic battle between good and evil, with inevitable results. He has Slash doing a searing guitar solo on Vengence Is Mine and the album is co-produced by Danny Saber. This new cd is Alice's 25th release during his solo career and there is no stopping this jaggurnaut of shock rock!
He has a nightly radio show going on here at
http://nightswithalicecooper.com/
and he has his resturaunt in Phoenix Az, called
Cooperstown
across from the
Diamond Back Stadium
that I have been to twice and it has great food and all the wait staff wears Alice eye makeup. He has so many things going on and is an avid golfer that has won
Fairway to Heaven
and is one of the best out there.
DEAD BABIES!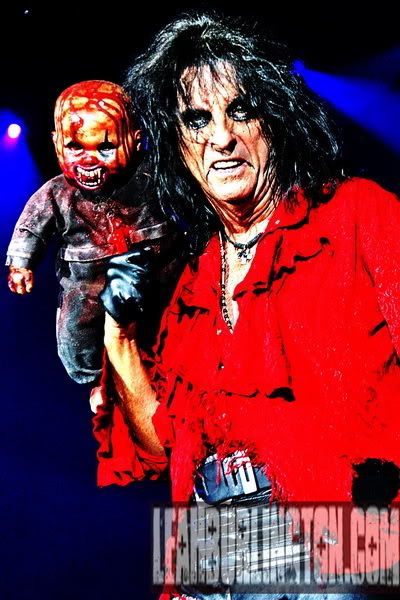 Alice Cooper
made a three day stop in Vegas in Sept, from the 5th-the 7th and I got to catch the sunday show thanks to Mark Lewis from
Rock Over America webzine
. He performed at the Orleans Theater which usually holds about 2000 people and houses old acts like the Smothers Bros and the Beach Boys. This weeked was Alice's weekend of horrors instead of happy tunes and comedy, as it was the
Pycho Drama Tour
with Alice as the Maestro of the macabre! The show wasnt sold out and it was a seated theater,which I hate, but a nice guard let me slip on down to the front to be closer to the stage. We got no press but were told to shoot anyway, so I did and I was close!!! As you can see by the shot above!
The show was as his shows always are and have been for over 35+ years, a spectacle!! I had just seen him at Rock The Bayou but this up close and personal show was of much better sound quality and it was just more personal. His band is amazing with Kerri Kelli on guitar,
ALICE AND KERRI KELLY!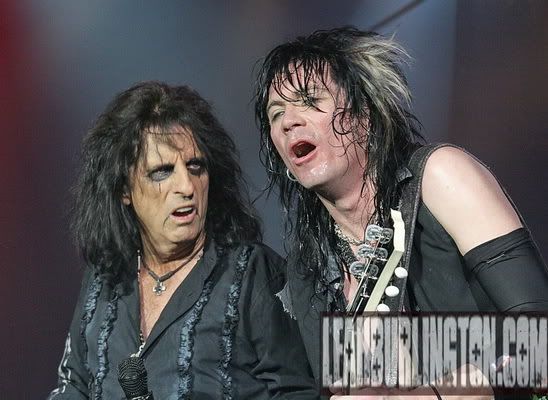 Jason Hook on guitar,Eric Singer son drums, and Chuck Garric on bass and Calico Cooper being Alice's bloody tortured soul as she always is....
COOP AND CALICO!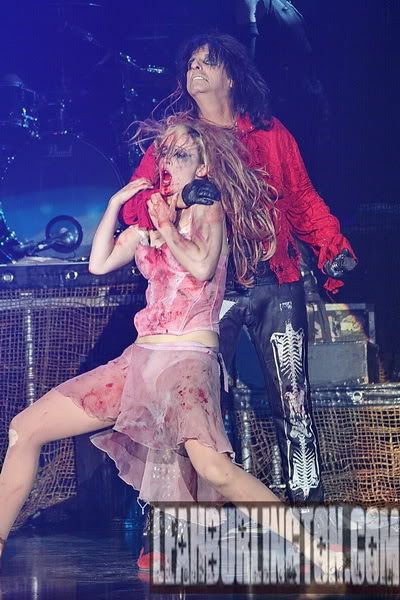 His band just rocked the roof off this ordinarilly quiet theater! He played all his greatest hits and some new ones off the new cd,
Along
Came a Spider.
He used all his usual props except for the Gullitine that he traded out for being hung by an executioner.
SO YOU THINK YOU CAN KILL ME???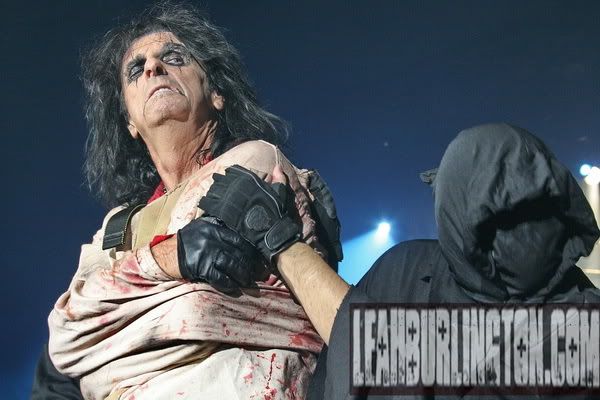 STRING HIM UP!!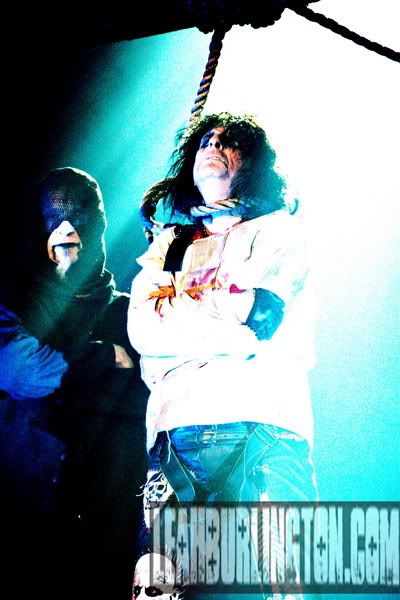 He had dead babies, a cold ethel doll,some knives and swords, a top hat, of course and Obama and MaCain duking it out then hugging during elected! That was classic.
I WANNA BE ELECTED!!!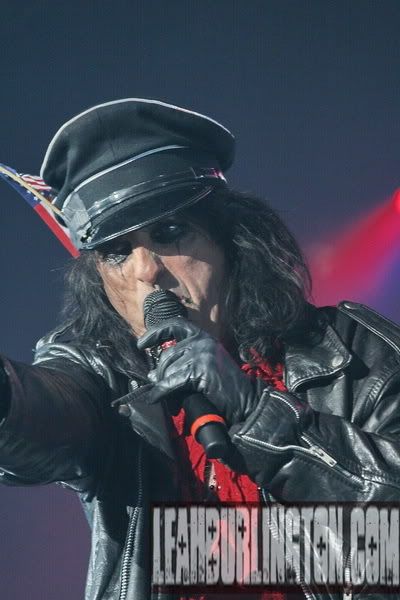 MACAINE AND OBAMA GETTING CLOSE!!

He tosseed out the huge ballons with confetti and the sword with Alice Cash on it for Billion Dollar Babies. All the normal stuff you expect during a Cooper show. Ya know it never gets old!!!
It was a killer show and I was glad I got to see it again!!! Keep it coming ALICE!!!
( These two photos are from Rock the Bayou!)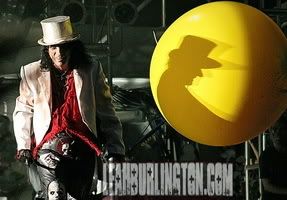 COLD ETHEL!!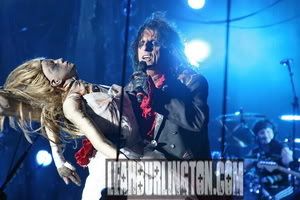 LOOK INTO MY EYES!!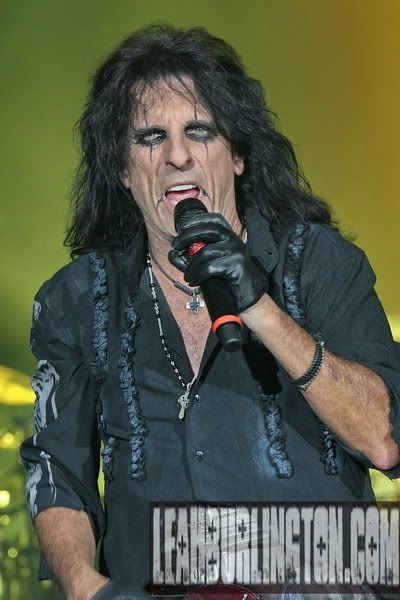 After the show I met the lovely Calico Cooper and she was so sweet! I saw her perform at Rock the Bayou at the after show party as she sang with Enuff's Enuff. She has a killer voice...like father like Daughter!
CALICO AND ME...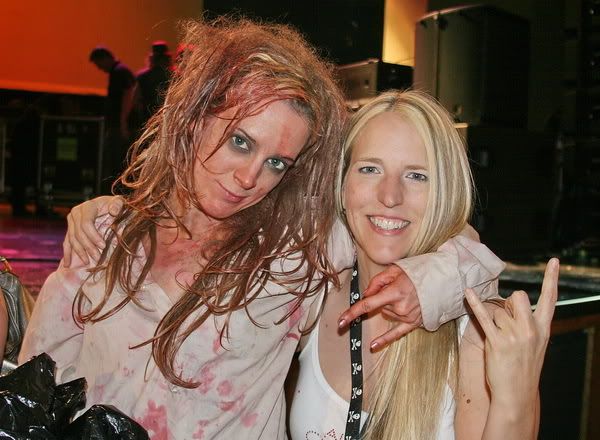 The Set list for Vegas:

It's Hot Tonight
No More Mr. Nice Guy
Under My Wheels
I'm Eighteen
Is It My Body
Woman of Mass Distraction
Lost In America
Feed My Frankenstein
Be My Lover
Dirty Diamonds
Muscle of Love
Vengence is Mine
Keri Kelli Spanish acoustic guitar solo
Desperado
Halo of Flies
Bass & drums jam
Drum solo
Jam
Welcome To My Nightmare
Cold Ethyl
Only Women Bleed
Steven
Dead Babies
The Ballad of Dwight Frye
I Love The Dead
School's Out
New video for Along Came a Spider:
New promo for the new cd Along Came a Spider!!
All that is Alice is here:
http://www.myspace.com/officialalicecooper
http://www.alicecooper.com/
I WOULD GIVE THIS SPECTACULAR SHOW THE COVETED \M/\M/\M/\M/\M/ HORNS UP!!!!