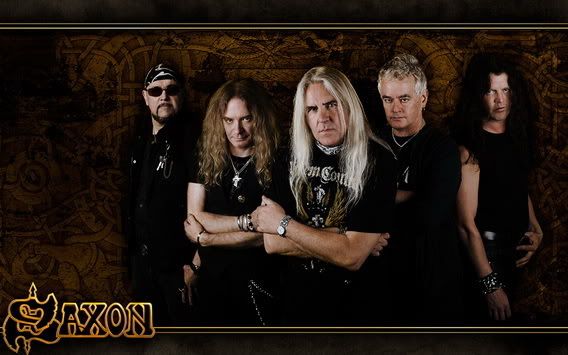 I am so happy to announce that

Saxon's

got a great year ahead of them in 2009!
They have a killer new cd called

"Into The Labyrinth"

that just came out and its absolutely kick ass! They are doing a tour in Europe starting next month with

Iced

Earth

which I would kill to go to since they are two of my fave metal bands!
(Here is the poster for it and dates!!)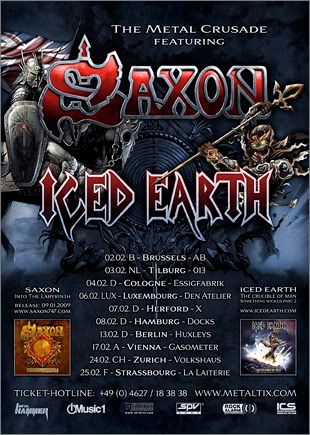 Battalions of Steel World Tour
01.02.2009     F  Paris - Bataclan
02.02.2009     B  Brussels - AB
03.02.2009     NL  Tilburg - 013
06.02.2009     LUX  Luxembourg - Den Atelier
07.02.2009     GER  Herford - X
08.02.2009     GER  Hamburg - Docks
10.02.2009     NO  Oslo - Rockefeller
11.02.2009     SE  Stockholm - Annex
12.02.2009     DK  Copenhagen - Pumpehuset
13.02.2009     GER  Berlin - Huxleys
15.02.2009     PL  Warsaw - Spodac
16.02.2009     CZ  Zlin - tba
17.02.2009     A  Vienna - Gasometer
19.02.2009     HU  Budapest - Petofi Hall
20.02.2009     SI  Ljubljana - Mediapark
21.02.2009     HR  Zagreb - Boogaloo
22.02.2009     I  Milan - Rolling Stone
24.02.2009     CH  Zurich - Volkshaus
25.02.2009     F  Strassbourg - La Laiterie
26.02.2009     GER  Köln - Live Music Hall
27.02.2009     E  Bilbao - Rockstar Live
28.02.2009     E  Madrid - La Riviera
01.03.2009     E  Barcelona - Razzmatazz

Battalions of Steel World Tour II
23.04.2009     UK    London - Forum
25.04.2009     UK   Prestatyn - Hammerfest
26.04.2009     IR   Dublin - Academy
27.04.2009     IR   Belfast - Mandela Hall
28.04.2009     UK   Glasgow - ABC
30.04.2009     UK   Sheffield - Academy
01.05.2009     UK   Newcastle - Academy
03.05.2009     UK   Manchester - Academy
04.05.2009     UK   Bristol - Academy
05.05.2009     UK   Wolverhampton - Wulfrun Hall

20.08.2009 US Algona, Iowa - Rock Gone Wild Festival
The last show on the tour is the new

Rock Gone Wild

fest in Iowa that so far has a pretty good lineup and

SAXON

will be playing their first US metal fest on Sunday nite! They pretty much play all the big fests in Europe and have been for years and have even headlined quite a few of them in the past years including the WOA show I attended in 07!! This is pretty big for the guys and I think it will be great for people in the US to see that SAXON has always been there and havnt gone away!!
Here is the press release from the Rock Gone Wild website!!
http://www.rockgonewild.com/
ROCK GONE WILD CAMPING ON SALE NOW!
RV campsites are very limited in number. If you are planning to attend Rock Gone Wild, reserve your RV campsites right now! RV campsites are nearly SOLD OUT ! Once they are gone, we cannot guarantee more will be added. Tent camping also available. Number of spots are limited.
- To purchase your campsite please go to
http://tickets.rockgonewild.com/
- For more information on camping at Rock Gone Wild please visit
http://www.rockgonewild.com/camping/info.php
- If you have any further questions regarding camping please contact
info@rockgonewild.com
Bands already announced for Rock Gone Wild 2009 include Puddle of Mudd, Saliva, Skid Row, Candlebox, Tantric, Kix,

Saxon

, Great White, Hardcore Superstar, Saigon Kick, Tigertailz, Lizzy Borden, Dangerous Toys, Helix, Rhino Bucket, Junkyard and the Gypsy Pistoleros with many more to come!
For a limited time, fans can visit www.rockgonewild.com and enter to win two (2) FREE general admission tickets. Check daily for a list of winners.
Rock Gone Wild fans are able to purchase tickets at all three price levels: platinum, VIP and general admission. Platinum ticket holders are allowed exclusive access to the Sinners Lounge. The Sinners Lounge features buffet style lunch, dinner and nightly snacks daily, liquor and beer, soft drinks and water - all to enjoy in an air-conditioned tent. The Sinners Lounge is the perfect nightclub setting for all rock fans! Platinum ticket holders sit in the first ten rows. Only a few tickets remain at this price level.
VIP ticket holders also get special Rock Gone Wild privileges. These ticket holders will sit in rows 11-30, enjoy buffet style lunch, dinner and late night snacks daily, plus beer, soft drinks and water. VIP fans will enjoy their food and drink in air-conditioned tents. General admission tickets are also available. To purchase tickets, please visit http://tickets.rockgonewild.com.
Rock Gone Wild will take place at the FreedomPark festival grounds, located at 2507- 160th Avenue in Algona, Iowa.
Visit www.rockgonewild.com and http://anatomyofafestival.wordpress.com/ each Tuesday in 2009 for a new band announcement or other exciting news and contests!
If you build it, they will rock.
CD REVIEW OF "INTO THE LABYRINTH"!!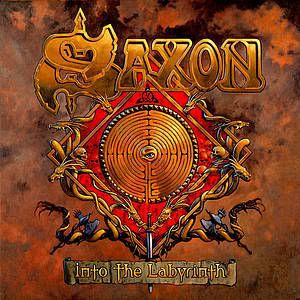 The first thing I wanted to say is even I didnt know these guys were still around before 1999 when i heard the cd

"MetalHead"

for the first time. I was completely fucking blown away and I remembered back in the day the

"Denim and Leather"

days and I thought these guys were gone with the 80's! Every song kicked my ass and were songs that you could instantly sing to and were melodic yet heavy!I was so thankful that I re-found this

"True-Metal"

band that has stayed true to their vision of metal the way it should be, hard and heavy with great melodies and a great clean vocals! That singer is still the "man"

Biff Byford

!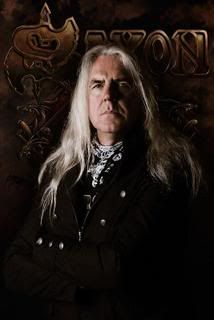 He is one of my fave singers for his unique and powerful voice that carries you into every song with metal-fucking-glee! I have been a huge

Saxon

follower ever since I heard that cd for the first time. They came out with three more killer albums since then with "Killing Ground", "Lion Heart"

and "

The Inner Sanctum"and the their third installment of their

"Heavy Metal Thunder"

best of's and

"The Eagle Has Landed Live Part 3".

Every cd has been incredible but this newest one guys, is so killer that since I got it it has been in heavy rotation along with competing with the

Helloween's

newest mind blower,

"Gambling With the Devil"

( That will be reviewing next!!)
Every single song of

"Into The Labyrinth"

is just as good as the last and they have just outdone themselves this time guys! Its starts with

"Battalions Of Steel"

, which just blows my mind with the classic old school of metal feel and its a powerful song my friends! What a way to start a new album!! Its an ass kicker of melodic proportions!! They are all about singing about battles and history and they tell a great tale...listen and you will be taken back to the days of swords and battles and knights in armor!
The next song is

"Live to Rock"

a total rock song in the vein of

"Solid Ball of Rock"

that makes you wanna just bang yer fuckin head and be at their show listening to this!! ( And they put on a hell of a show guys!!) Its ROCKS!
I dont want to review every song because there are so many...but

"Demon Sweeny Todd"

is really heavy and brutal, telling the tale of the same name. Great guitars in the beginning, OMG!!I just saw the movie adaptation and it was a sick...this song should have been in the after credits!! Dammit!"

Feel the knife on your skin now youll pay for your sin!!"

Wicked story telling!
There are slow songs that are beautifully written like

"Voice"

and even a couple of Blues songs. they even did

"Coming Home"

re-adapted from the song from

"Killing Ground"

and made more blusey and slow. I really like what they did on that.
I am telling you, this is a killer effort and I think its one of their best in their discography of over 27 studio albums!! They have really come into their own and are making a name for themselves as one of the premire

NWOBHM

bands in the world, or should I just say

METAL

bands because they are still alive and kicking us into the 21st century!! They have never ceased in bringing metal to the world and waving the metal flag high and proud!!!!
PS:
I went to

Wacken Open Air

in Germany, in 07 just to see them perform and was lucky enough to see them at their free warm up gig in come small village to about 2-300 people.
(Oh, by the way their DVD

Saxon

at

Wacken

is the reason I wanted to see them at

Wacken

!! Its one of the greatest metal Dvd's out there thats powerful and shows the guys in all their metal best!! Made me fiend to see them at that fest in front of 50-80,000 people!!!)
They were as amazing that nite as they were in front of well over 50,000 people at the fest!! The only diffrence is that they got to use

"The Eagle"

ontage at the fest...they closed out the first nite with a bang and made every Metal-Head a believer again!!

SAXON

rules!!!!
Here are a few shots I got at the Warm Up!!


Biff Byford!!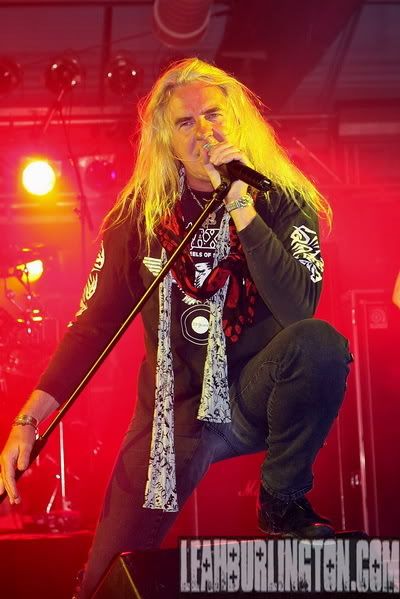 Doug Scarret and Paul Quinn!!


Paul Quinn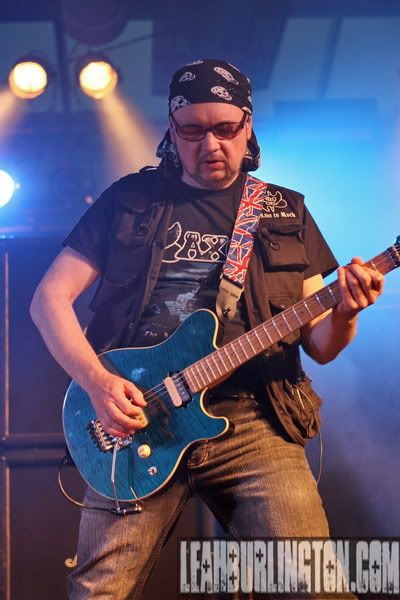 Doug Scarret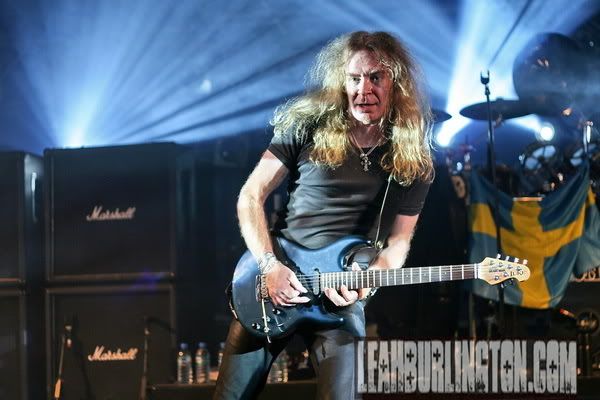 I have been trying to tell everyone I know how amazing these guys are for about 10 years and I am so glad they are finally getting their due fame and that they are a true talent and force to be reckoned with!!! Stay Metal guys!!!!


They have a great website at:

http://www.saxon747.com/en/itl/

Where you can see their ENTIRE biography and discography if you want to start collecting the cds and shit!!! Excellent source for all that is

SAXON!



And a GREAT new myspace at:

http://www.myspace.com/planetsaxon

They have all the latest news and shit on here and its a beautiful page whomever does it should get a medal!!

This video is one of the reasons I HAD to see these guys live at Wacken...this is from that Dvd!!! Do yourselves a favor and GET that DVD!!!

Saxon: Crusader live at Wacken!!


Dude!!! This is the SHIT!!! Makes you glad to be METAL!!
Saxon: The Eagle Has Landed live at Wacken!



Ok! Just found this!!! Angry Anderson,Andi Deris and Lemmy rockin with Saxon!!! This is so METAL mutha-fuckers!!!! WOOT!!! Brings a tear to my old metal eye!!!!!!!!!
Saxon and friends: Gotta Rock to Stay Alive!!



Newest Saxon Video
Saxon: Let me Feel Your Power!!!


And we cant forget that SAXON has a competition going for the RIFF KING solo for "Live To Rock!!!" Go check it out and enter guitar players and win a trip for two to see Saxon in all their GLORY!!
Here Biff explains the competition!!
I give all this new cd, all this killer news and everything a coveted 5 \m/'s so waaay up!!! Keep us rockin to stay alive Saxon!!!!!!!!

!!