THOMAS AND MACK LAS VEGAS, NV 8/08/09
Judas Priest has been my all time fave band since 198 1 when I saw them on MTV in the "Headin' Out To The Highway" video. Their music got me through the tough times as a teenager and I feel that the music saved my life. They were always there to bring me up and make me feel empowered to get through anything and to take on anyone! To this day the Metal Gods keep bringin' on the music that makes you feel powerful and strong! Maybe that's why "Blood Red Skies" is my all time fave that I have never seen live but would love to see one day.
(Photo from before VH1 Rock Honors when I won to meet Priest at KOMP Radio:)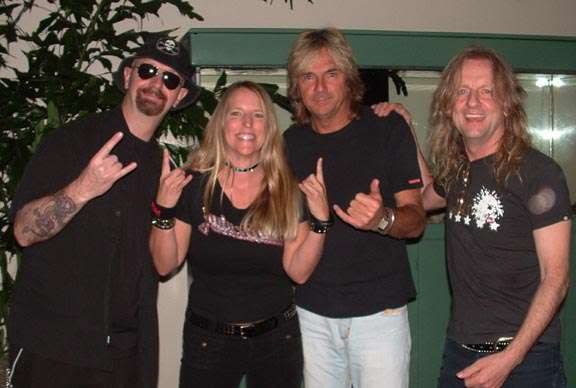 I
have seen many Priest show's but never seen them in their prime back in the day. The first time I actually got to see them was when Ripper was in the band and even then they were massive!! What a great replacement he was at the time but I am so happy to have Rob back in the band!! He is the original and never can be replaced ever again.
I was stoked that Diane and I were able to buy the almost entire front row in the center at the Thomas & Mack Arena that used to the the "only" place to see arena shows back in the day. They have a new policy that tickets are always $25 no matter where they are. So we were fortunate enough to get the best seats in the house and for that I am grateful!! Three people actually backed out on the tickets I got for them but was happy to get my good friend Jimi to come with and my roomie Don to be up with me at our own "private show".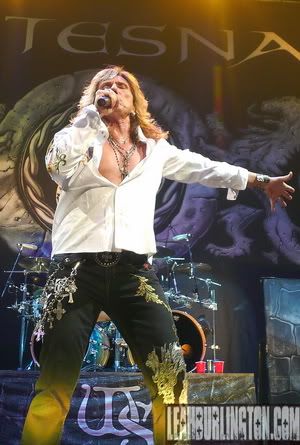 Whitesnake opened the show and I havent seen them since the Girls, Girls, Girls, Crue show way back when and was happy that they were going to play as Coverdale had some issues with his voice the last few days and had to cancel the show's.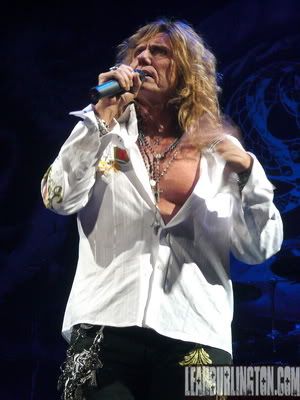 We were fortunate enough to have him sing for us, even though he was close to blowing out the vocal chords yet again. We were just happy to see him perform. He did the best he could and I wasn't upset a bit. His band included Reb Beach from Winger fame,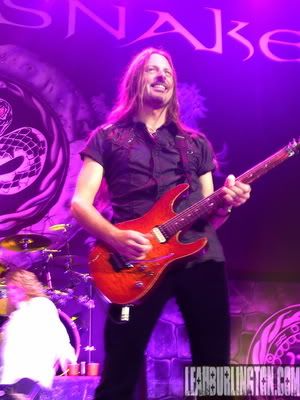 Doug Aldrich(Holy crap that man is hot and can he play!!),
Uriah Duffy........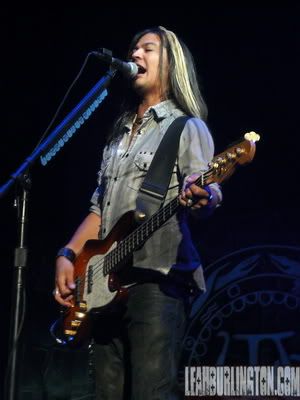 Chris Frazier on drums and Timothy Drury on keys. The set-list was cut short due to the fact that David Coverdale was having issues with his voice still but it was still a killer set. They started with Best Years, Bad Boys,Love Aint No Stanger, and rounded that off with Slow and Easy. These guys rocked the place down with a couple of guitar solos and that gave me a chance to get a drink. At least there wasn't a drum solo this time which bores me to tears every time(Unless its Zoltan from Vince Neils band as that guy is insane!!)
They blew me away with Lay down your love which is a new song and then the ballad Is This Love. Then they played the old fave's, Gimme All Your Love and Here I Go Again and finished out the set with In the Still Of the Night which killed!!! This was still a kick ass set and I really was glad to have seen them...kudo's for Coverdale for giving it his best!!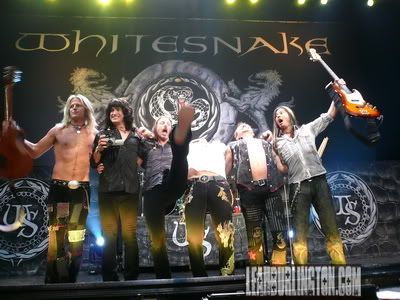 After we got to get a short break we were getting all revved up for the Mighty Priest!!! They put up a huge curtain that read: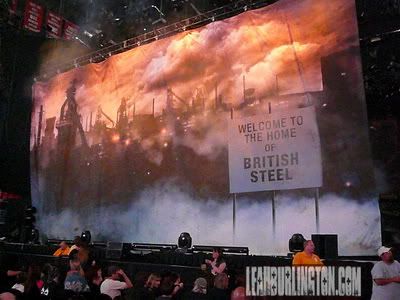 That got us all the more pumped up for the beginning of the coolest set ever from "Brittish Steel" one of the greatest albums of all time!!! This was indeed going to blow our minds!!!
I got my place in the photo pit with all my fellow photog's including Val Nerres and Kimberly. I was shaking like a leaf because this was my "First" time shooting Priest officially in the pit!! I was so excited! All my friends at the barricade were rooting me on and when the curtain came down and Priest came out with an explosion and screaming into Rapid Fire, I started to freakin cry and that makes it hard to shoot a photo!! Lol!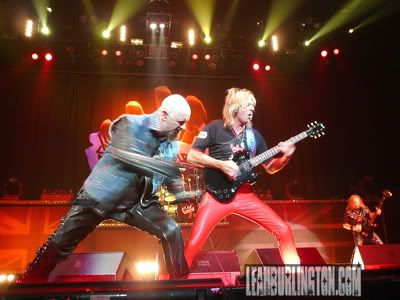 After my three songs in the pit which included Metal Gods and Breakin the Law, I climbed outta the pit and jumped in beside Dona and Jimi and proceeded to rock the hell out!!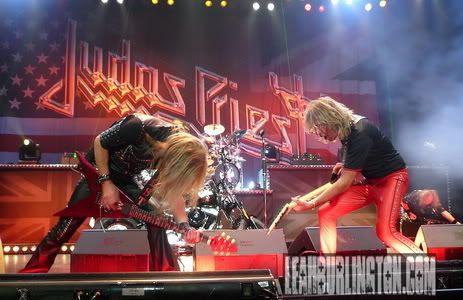 Grinder and United was incredible as I dont think I have heard any of these songs live except for the "hits".They slid right into their biggest hit,Livin After Midnight and then kicked my ass with The Rage!!! That was sweet!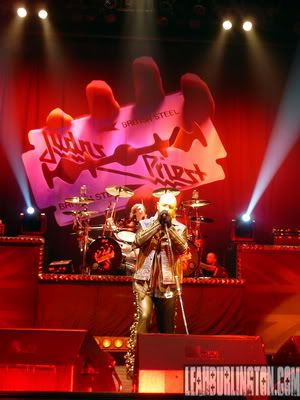 (My money shot!!!!)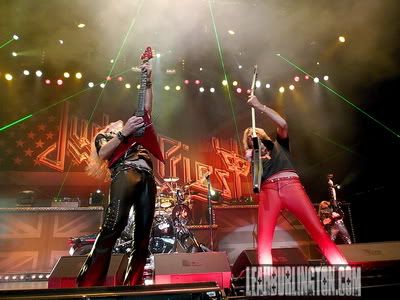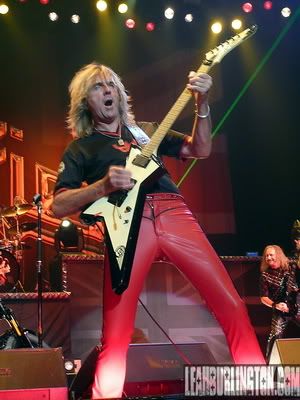 Then we heard the roar of the Harley Davidson and out comes Rob Halford, The Metal God with his trusty steed and they roared into Freewheel Burnin', not Hell Bent For Leather like they usually do, which was a surprise.

Diamonds and Rust was next and then the laser lights came on all strong and green and they flew into the last song You Got Another Thing Coming!!They blew the roof off the arena with that final song!!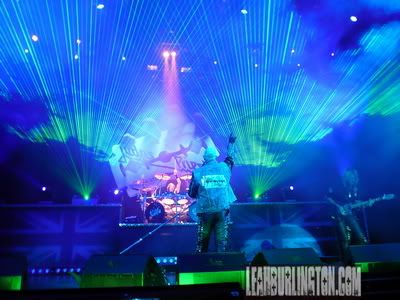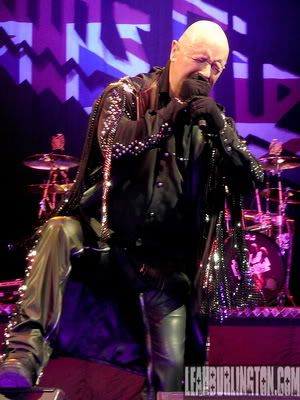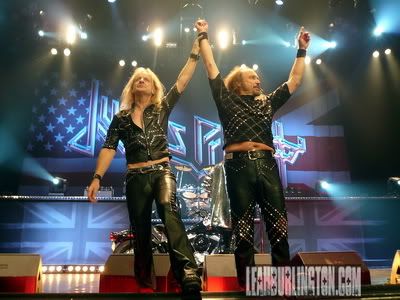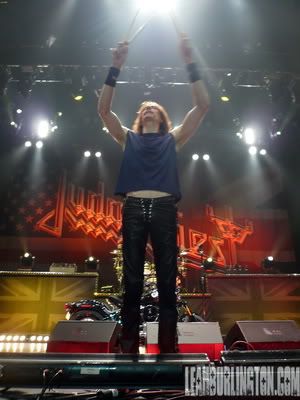 That was so amazing!! After 30+ years of Metal these guys stay true to the music and to the fans!! This was my fave Priest show that I have ever seen!! I hope they keep doing what they do and bring us what we crave....Heavy Freakin Metal!!!!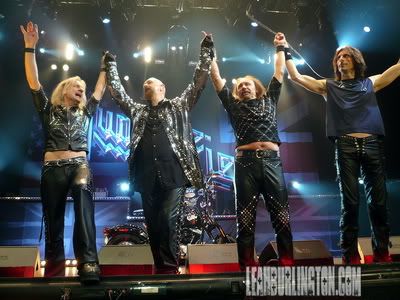 Myspace:
http://www.myspace.com/judaspriest
Official website:
http://Judaspriest.com
( My thanks to Mark Lewis from
www.rockoveramerica.com
and Dawn Sousa for the pass and AJ for the great front row tickets and all my friends for the great support that night!!)